Headline
Tyson Foods and LULAC Collaborate to Encourage Vaccination Participation
More than 44,000 of the Company's U.S. Team Members Have Been Vaccinated
Houston, TX – May 20, 2021 – Tyson Foods recently hosted League of United Latin American Citizens (LULAC) CEO Sindy Benavides to an on-site COVID-19 vaccination event for nearly 200 Tyson employees at the company's plant in Houston.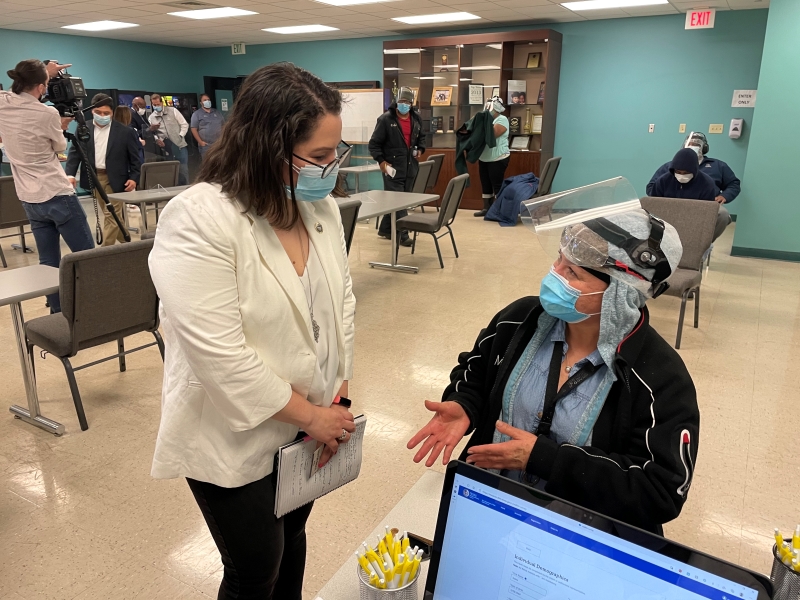 (B-roll and interviews can be downloaded here.)
Benavides met with Tyson workers to encourage vaccine participation and share LULAC's mission. As the oldest and largest Latino civil rights organization in the country, LULAC is committed to supporting essential workers in the food industry and ensuring they have access to the COVID-19 vaccine.
"According to the Bureau of Labor Statistics, of the 525,000 workers in 3,500 meat processing facilities nationwide, 44% or 231,000 are Latino," said Benavides. "We applaud Tyson Foods for being at the forefront of on-site vaccination programs which are proving to be the most successful. We all share the same goal of promoting the health and safety of America's essential workers as they help nourish our nation."
Companywide, 28% of Tyson Foods employees identify as Hispanic or Latino.
Tyson Foods recently announced that free, on-site vaccination events will include family members of employees as well as others living in their homes. Vaccinations for team members are voluntary, but highly encouraged.
"We appreciate LULAC's partnership and thank Sindy for helping drive awareness about the importance of the vaccine with our team members," said Hector Gonzalez, senior vice president, human resources for U.S. Business and Administration, Tyson Foods. "Our focus has been on providing education and access to the vaccine and this event helped accomplish both of those goals."
More than 44,000 Tyson Foods employees have been vaccinated so far at more than 100 events held onsite at Tyson facilities or in nearby community facilities. In preparation for vaccinations, Tyson Foods has been providing expert resources and education about the vaccine to team members. This information is available in multiple languages and team members also have access to a hotline to ask questions. In addition to offering free, on-site vaccinations, the company is also compensating workers for up to four hours of regular pay if they are vaccinated outside of their normal shift or through an external source.
Providing workers access to the vaccine is the latest in a series of measures Tyson Foods has taken to fight COVID-19. Since the spring of 2020, the company invested hundreds of millions of dollars to transform its U.S. facilities with protective measures, from walk-through temperature scanners and workstation dividers to social distance monitors and always-on testing, as well as provide additional team member pay and benefits. Tyson Foods has also expanded its health services staff, added a chief medical officer and plans to pilot health clinics for team members and their families early this year.
About LULAC
The League of United Latin American Citizens (LULAC) is the nation's largest and oldest Hispanic civil rights volunteer-based organization that empowers Hispanic Americans and builds strong Latino communities. Headquartered in Washington, DC, with 1,000 councils around the United States and Puerto Rico, LULAC's programs, services, and advocacy address the most important issues for Latinos, meeting the critical needs of today and the future. For more information, visit LULAC.org.
About Tyson Foods
Tyson Foods, Inc. (NYSE: TSN) is one of the world's largest food companies and a recognized leader in protein. Founded in 1935 by John W. Tyson and grown under three generations of family leadership, the company has a broad portfolio of products and brands like Tyson®, Jimmy Dean®, Hillshire Farm®, Ball Park®, Wright®, Aidells®, ibp®, and State Fair®. Tyson Foods innovates continually to make protein more sustainable, tailor food for everywhere it's available and raise the world's expectations for how much good food can do. Headquartered in Springdale, Arkansas, the company has 139,000 team members. Through its Core Values, Tyson Foods strives to operate with integrity, create value for its shareholders, customers, communities and team members and serve as a steward of the animals, land and environment entrusted to it. Visit TYSONFOODS.COM to learn more.
####
Contact: Derek Burleson, 479-290-6466