Tyson Foods, Inc. (NYSE: TSN) is one of the world's largest food companies and a recognized leader in protein. Founded in 1935 by John W. Tyson and grown under four generations of family leadership, the company has a broad portfolio of products and brands like Tyson®, Jimmy Dean®, Hillshire Farm®, Ball Park®, Wright®, Aidells®, ibp®, and State Fair®. Tyson Foods innovates continually to make protein more sustainable, tailor food for everywhere it's available and raise the world's expectations for how much good food can do. Headquartered in Springdale, Arkansas, the company has 142,000 team members. Through its Core Values, Tyson Foods strives to operate with integrity, create value for its shareholders, customers, communities and team members and serve as a steward of the animals, land and environment entrusted to it.
Our Strategy
Sustainably Feed the World with the Fastest Growing Protein Brands
HOW WE WILL ACHIEVE OUR STRATEGY
Grow
Our business by delivering superior value to consumers and customers.
Deliver
Fuel for growth and returns through commercial, operational and financial excellence.
Sustain
Our company and our world for future generations.
Delivering more every day
Tyson Foods is a modern, multi-national, protein-focused food company producing approximately 20% of the beef, pork and chicken in the United States in addition to a portfolio of foods under the Tyson®, Jimmy Dean®, Hillshire Farm®, BallPark®, Wright®, Aidell's® and State Fair® brands.
Tyson Foods is also the leading protein provider to many national restaurant chains, including quick service, casual, mid-scale, and fine dining restaurants. We make great food for a variety of foodservice customers, including schools, military bases, hospitals, nursing homes and international customers as well. We are also the only company that sells chicken, beef, pork, and prepared foods products through all major retail distribution channels, including club stores, grocery stores, and discount stores.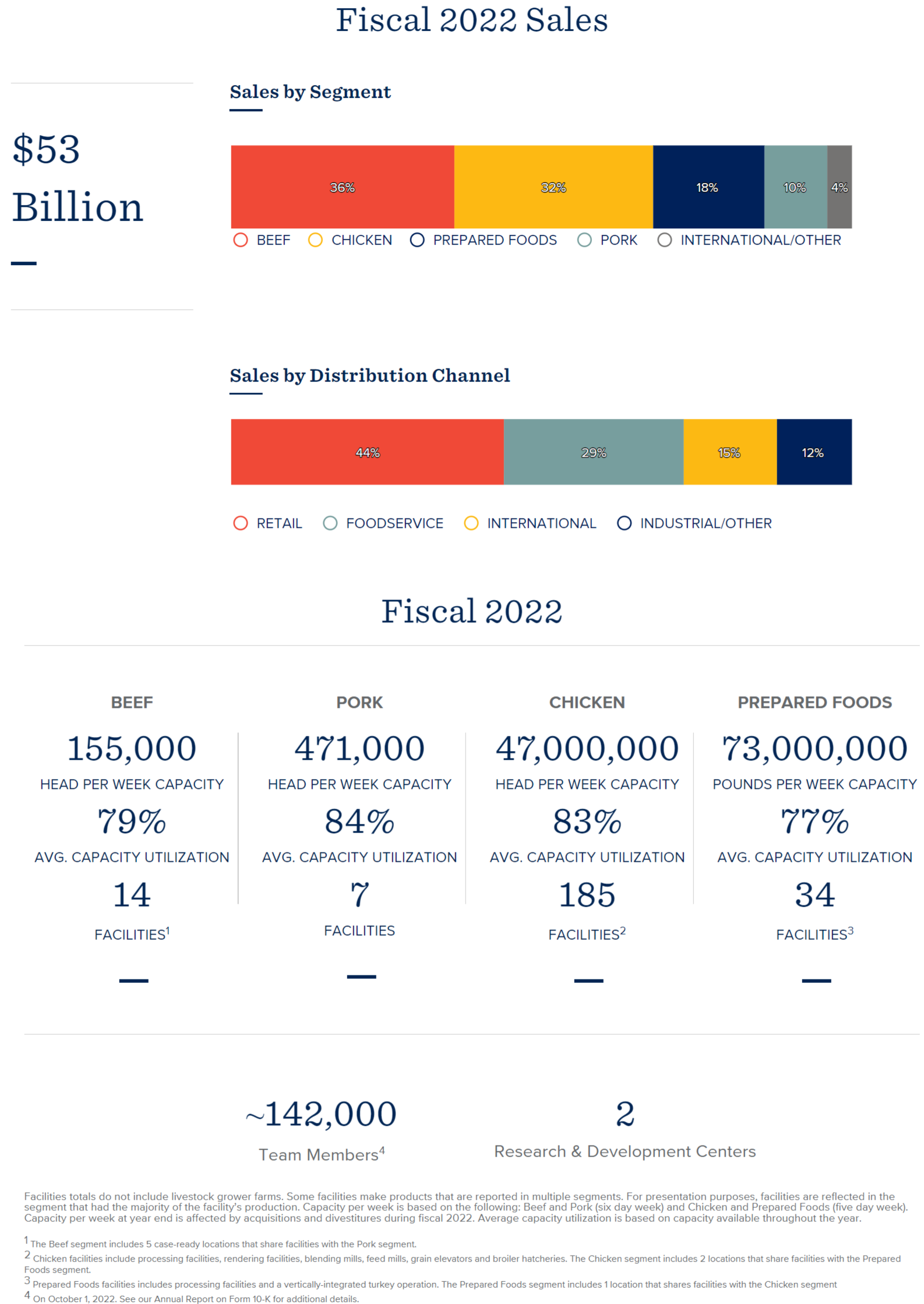 Certain information presented within may constitute forward-looking statements. These forward-looking statements are subject to a number of factors and uncertainties, which could cause our actual results and experiences to differ materially from the anticipated results and expectations expressed in such forward-looking statements. We wish to caution readers not to place undue reliance on any forward-looking statements, which speak only as of the date made. Please refer to Item 1A. "Risk Factors" included in our Annual Report filed on Form 10-K for the most recent fiscal year, and subsequently filed Quarterly Reports on Form 10-Q and Current Reports on Form 8-K.