recent blog posts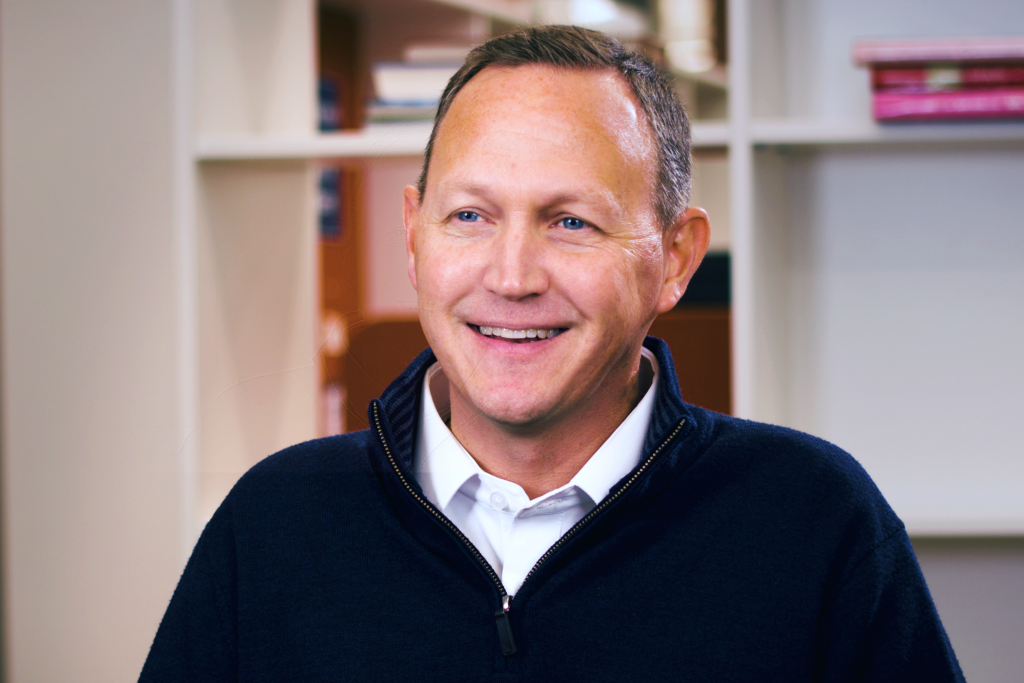 Going All In: A Team Member's Adoption Story
by Cheyenne Autry Striefler
Jason and his wife, Michelle, adopted Micah – their youngest – from Russia in 2009. It was a long process, Jason says, and much more complicated than he and his wife had anticipated, but they knew they could give a child somewhere a home. "There are 153 million orphans in the world, and our thought process was we can't help them all, but we can help one, and that started us on our journey."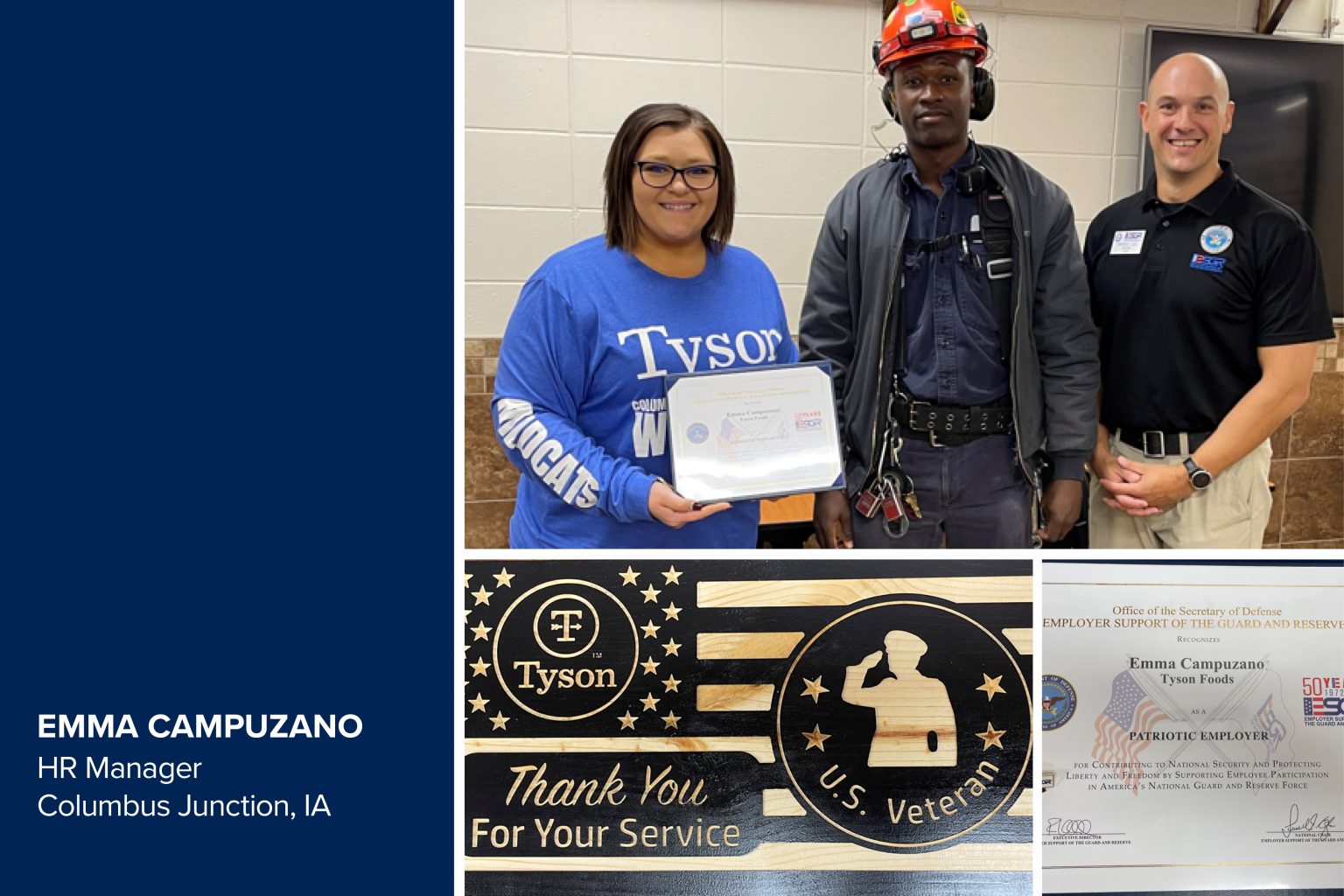 Team Member Receives Patriot Award for Supporting Service Members
by Cheyenne Autry Striefler
For Emma Campuzano, Tyson Foods human resources manager, supporting veterans and active military personnel is in her blood. "My grandfather is a Vietnam vet and a purple heart recipient, so it's always been near and dear," Campuzano said. "Being able to somehow make a tiny difference for [a veteran or servicemember] is so special to me."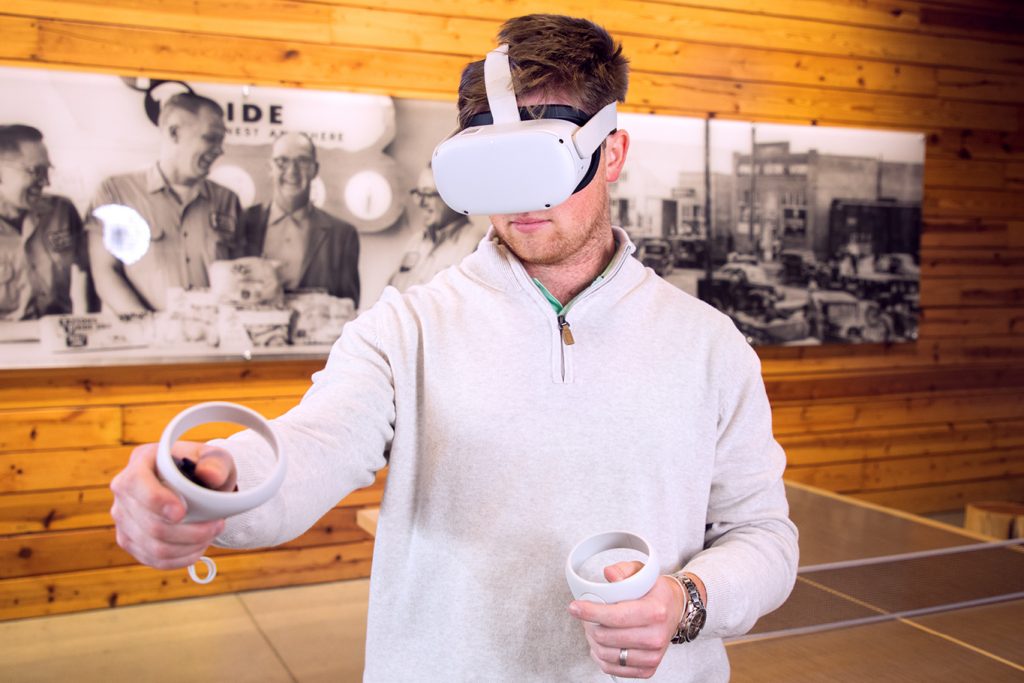 An Innovation Story: The Immersive 360 Experience
by Cheyenne Autry Striefler
We talk a lot at Tyson Foods about feeding the future and creating a more sustainable food system, and that means we must innovate, reimagine, and advance all aspects of the supply chain – from the farm to the table. That's why we built the Tyson Foods Broiler Welfare Research Farm in 2020 and opened the Tyson Manufacturing and Automation Center (TMAC) in 2019.  
Sustainability Focused
We're the largest U.S. food company, and sustainability is at the heart of our business.
We are channeling our size and scale to tackle some of the biggest sustainability challenges facing the world today.
Careers at Tyson
We're a progressive food company raising the world's expectations for how much good food can do. 
Come see what makes Tyson Foods a great place to work.
Tyson Foods Hosts Contract Poultry Farmer Advisory Council
Leadership Meets with Contract Poultry Growers for Insights and Listening Sessions
Tyson Fresh Meats Voluntarily Recalls 93,679 Pounds of Ground Beef
Tyson Foods Strengthens its Commitment to Immigrant Team Members with $1.5M Investment
National Immigration Forum recognizes the company with the "Keepers of the American Dream Award"
Our Brands
When you think of Tyson, you probably imagine what is only a nugget of the larger picture that is Tyson Foods. Our products range from that juicy ribeye at the five-star restaurant to fresh meat at the local butcher.