Headline
Tyson Foods, LNESC and LULAC Partner to Donate 40,000 Pounds of Protein to Roadrunner Food Bank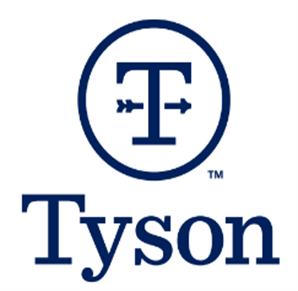 -
- 160,000 servings of poultry products to help families and communities facing hunger
- Donation in honor of LULAC National Education Service Centers' 50-Year Anniversary Celebration and Youth Conference
ALBUQUERQUE, N.M. – August 1, 2023 – Today, the LULAC National Educational Service Centers (LNESC), Tyson Foods, and the League of United Latin American Citizens (LULAC), joined forces to donate 40,000 pounds of protein to Roadrunner Food Bank of New Mexico. The donation, the equivalent of 160,000 servings*, is in honor of the LULAC National Education Service Centers' (LNESC's) youth-focused conference and celebration honoring its 50-year anniversary in offering education and leadership programs and services.
As the oldest and largest Latino civil rights organization in the country, LULAC is committed to alleviating hunger disparities among the Latino community. Thanks to a longstanding partnership, LULAC and Tyson Foods have donated more than 1.7 million pounds of protein to food banks across the country since 2003. This year, LNESC is joining this collaborative effort in providing aid to hungry families as part of its milestone celebration.
"LNESC has always been about the communities we serve, and I can't think of a better way to celebrate our 50-year anniversary than by participating in this remarkable donation," said John Moya, Director of LNESC Albuquerque.
Since 1973, LNESC has assisted over 607,000 students on their path to higher education, awarded more than $30 million in scholarship funds, and helped provide education and leadership programs for Hispanic and other students in need of financial assistance and educational counseling.
"We're proud to do our part to help great partners like the Roadrunner Food Bank, which works on the front line every/ day to end hunger," said Paul Davis, vice president and chief equity, inclusion & diversity officer, Tyson Foods. "Food insecurity affects all age groups, ethnicities and communities, and we're committed to working with organizations like LULAC to feed the world, together."
The Roadrunner Food Bank of New Mexico serves more than 70,000 hungry people across New Mexico every week. This protein donation will go directly to 16 surrounding counties to feed children, adults and seniors struggling to get food.
"Thanks to Tyson and LULAC, we are grateful to receive such a precious food donation," said Linda Wedeen, interim president and CEO of Roadrunner Food Bank of New Mexico. "This truckload of protein is truly a unique and special gift. Large donations of protein like this one are not what the food bank typically receives. For the people we serve, food items like this are often a treat. We are honored to be able to provide this food to New Mexicans experiencing hunger. It will reach tens of thousands of families across the state."
###
About LULAC National Educational Service Centers, Inc.
LULAC National Educational Service Centers, Inc. (LNESC) was established in 1973 by the League of United Latin American Citizens (LULAC) to provide educational programming to high-need students throughout the U.S. and Puerto Rico. Throughout 16 education and technology centers, LNESC has served over 607,000 students, sent 159,000 students on to college, and awarded nearly $30 million in scholarship. LNESC's results are made possible by a network of dedicated field staff, top-notch teachers, over 90 school partners, and the support of LULAC. LNESC works to change lives and build Latino communities, one student at a time. www.LNESC.org
About LULAC
The League of United Latin American Citizens (LULAC) is the nation's largest and oldest civil rights volunteer-based organization that empowers Hispanic Americans and builds strong Latino communities. Headquartered in Washington, D.C., with 1000 councils around the United States and Puerto Rico, LULAC's programs, services and advocacy address the most important issues for Latinos, meeting critical needs of today and the future. For more information, visit www.lulac.org.  
About Roadrunner® Food Bank
New Mexico is ranked as one of the most food insecure and most poverty-stricken states in the nation. Roadrunner® Food Bank, a Feeding America member, is the largest non-profit dedicated to providing access to food and meals in New Mexico. The food bank serves as a distribution hub and works through hundreds of affiliated partners around the state including food pantries, soup kitchens, shelters and regional food banks to provide food to people experiencing hunger. Roadrunner also distributes food through its own specialized programs helping children, families and seniors at partner schools, low-income seniors housing sites, senior centers and healthcare locations. Last year, the food bank distributed more than 34 million pounds of food, reaching tens of thousands of people every week. To get involved, visit www.rrfb.org, or follow the food bank on social media: Facebook, LinkedIn, Instagram, YouTube or Twitter.
About Tyson Foods, Inc. 
Tyson Foods, Inc. (NYSE: TSN) is one of the world's largest food companies and a recognized leader in protein. Founded in 1935 by John W. Tyson and grown under four generations of family leadership, the Company has a broad portfolio of products and brands like Tyson®, Jimmy Dean®, Hillshire Farm®, Ball Park®, Wright®, Aidells®, ibp® and State Fair®. Headquartered in Springdale, Arkansas, the Company had approximately 142,000 team members on October 1, 2022. Through its Core Values, Tyson Foods strives to operate with integrity, create value for its shareholders, customers, communities and team members and serve as a steward of the animals, land and environment entrusted to it. Visit www.tysonfoods.com.
*Tyson estimates, one pound of protein is equal to four servings of protein. 
Media Contact: Kelly Hellbusch | Kelly.Hellbusch@tyson.com | 281-799-9784