Headline
Tyson Foods Accelerates Programs to Meet Ambitious Sustainability Goals
Company leverages innovation, technology and key partnerships to develop industry shaping sustainability initiatives, advance progress towards goals.
SPRINGDALE, Ark. — May 13, 2019 —Tyson Foods (NYSE: TSN) released its 2018 sustainability report today, demonstrating progress and increased transparency across key sustainability measures, including farming practices, worker health and safety, hunger relief and more.
The company accomplished the following in 2018:
 
Workplace Safety: More than doubled its 10 percent year-over-year commitment to reduce OSHA recordable workplace injuries and illnesses (a 22 percent decline).
Team Member Education: Expanded Upward Academy, a language and life skills education program, to 33 plant locations.
Environment: Became the first U.S.-based protein company to receive approval from the Science Based Target Initiative for its greenhouse gas reduction target of 30% by 2030.
Animal Welfare: Expanded implementation of the largest third-party remote video auditing system in the industry.
Hunger Relief: Donated more than 46 million servings of protein to hunger relief efforts across the U.S. and continued to move ahead of schedule in meeting its commitment to provide $50 million in five years to fight hunger.
 
"Our progress is a testament to our unwavering commitment to accelerate sustainable food production," said Noel White, president and CEO of Tyson Foods. "As one of the largest food companies in the world, Tyson Foods plays an important role in contributing to a stable and sustainable food system for future generations."
 
New Partnerships Signal Progress
As part of the company's efforts to develop best-in-class sustainability programs, Tyson Foods established partnerships with industry leaders, including Environmental Defense Fund, World Resources Institute, Oxfam America, and the United Food and Commercial Workers Union. These partnerships will help Tyson Foods accelerate its progress in meeting sustainability goals, which include reducing water use intensity 12% percent by 2020, reducing greenhouse gases 30% by 2030, increasing land stewardship practices on two-million acres of row crop corn by the end of 2020; and increasing worker retention by 10%.
"We've made progress, but recognize there's more to do," said Justin Whitmore, executive vice president, alternative proteins and chief sustainability officer of Tyson Foods. "Our Team Members are determined to lead a coalition of industry partners to sustainably feed the world. We're excited to work with organizations who will challenge our thinking, so we can advance sustainability on a global scale."
 
Sustainability Report At-A-Glance
Tyson Foods' made progress against its five core sustainability pillars, shared in the 2018 Sustainability Report, including:
 
Our Commitments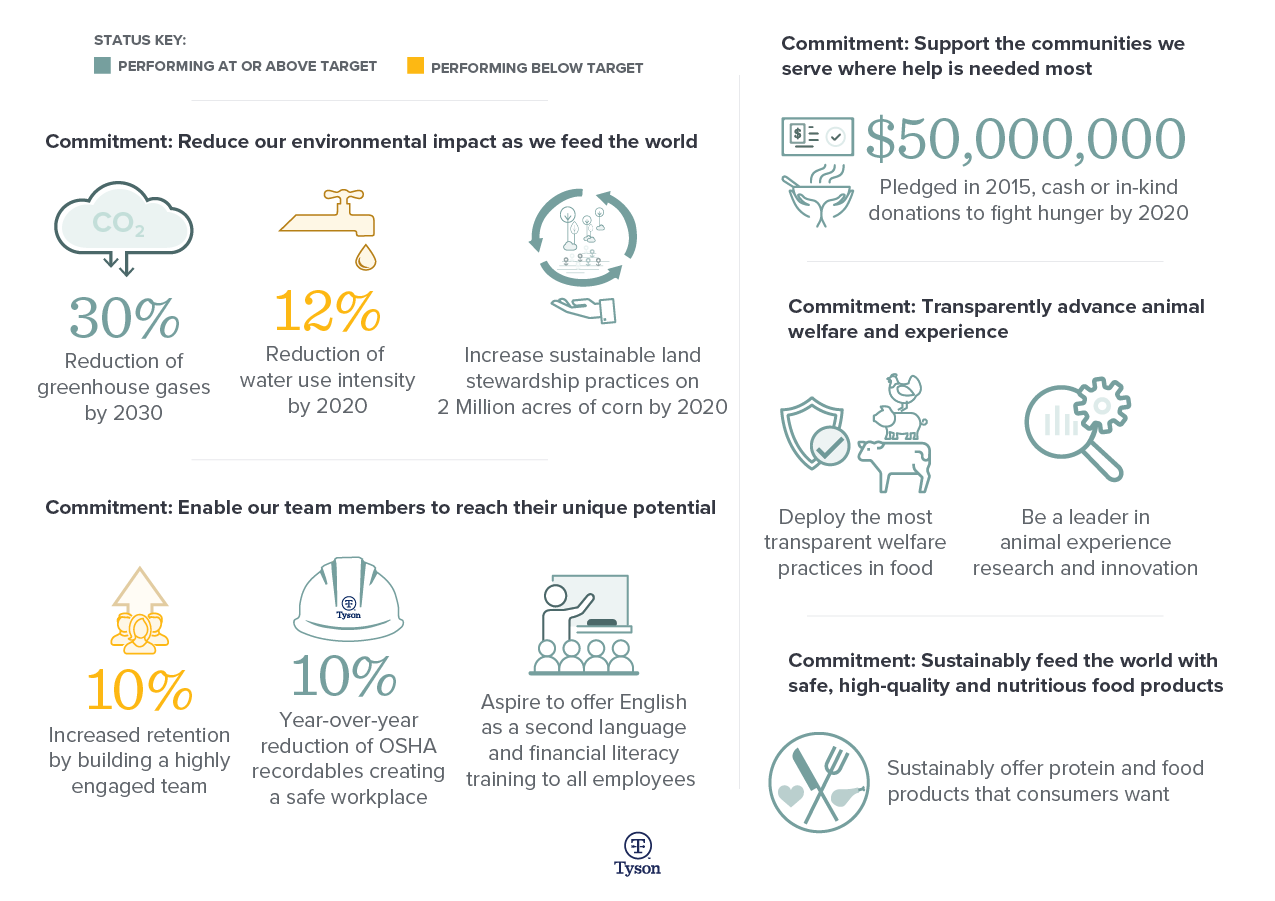 About Tyson Foods 
Tyson Foods, Inc., (NYSE: TSN) is one of the world's largest food companies and a recognized leader in protein. Founded in 1935 by John W. Tyson and grown under three generations of family leadership, the company has a broad portfolio of products and brands like Tyson®, Jimmy Dean®, Hillshire Farm®, Ball Park®, Wright®, Aidells®, ibp®, and State Fair®. Tyson Foods innovates continually to make protein more sustainable, tailor food for everywhere it's available and raise the world's expectations for how much good food can do. Headquartered in Springdale, Arkansas, the company had 121,000 team members at September 29, 2018. Through its Core Values, Tyson Foods strives to operate with integrity, create value for its shareholders, customers, communities and team members and serve as a steward of the animals, land and environment entrusted to it. Visit www.tysonfoods.com.
 
Contact: Caroline Ahn, 312-614-6047