Headline
Tyson Foods Recognizes Suppliers of the Year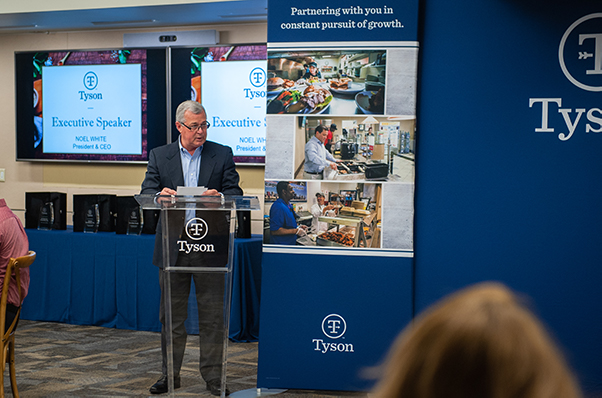 Five Companies Selected for Annual Honor
Springdale, Ark. – April 30, 2019 – Tyson Foods, Inc. (NYSE: TSN) has announced five companies as winners for 2018 fiscal year in its fourteenth annual "Supplier of the Year" awards program.
The awards were presented during a luncheon at Tyson Foods' World Headquarters attended by Tyson Foods' President & CEO Noel White, Group President International & Chief Administration Officer Donnie King, and Senior Vice President of Procurement Melanie Russell.
Winners of the 2018 Supplier of the Year awards include:
• DuPont Animal Nutrition of Wilmington, Delaware, supplier of live production ingredients
• Plastic Ingenuity of Cross Plains, Wisconsin, supplier of packaging
• Schreiber Foods of Green Bay, Wisconsin, supplier of specialty ingredients
• Tarheel Distributors, Inc. of Sanford, North Carolina, operational indirect
Additionally, the 2018 Innovator of the Year was awarded to US Petrolon Industrial, Inc., of Lincoln, Nebraska.
The recognitions were based on supply-chain performance, total cost of ownership, pricing programs,
customer-service performance, innovation, sustainability initiatives, and other performance metrics observed throughout the year.
"Relationships built upon character and integrity create the magic for accomplishing sustainable outcomes
across a supply chain," said Kevin Igli, SVP, Sustainability & Chief Environmental Officer, Tyson Foods. "As we continue our journey together – of sustainably feeding the world – we want our supplier relationships to be remarkable to those watching."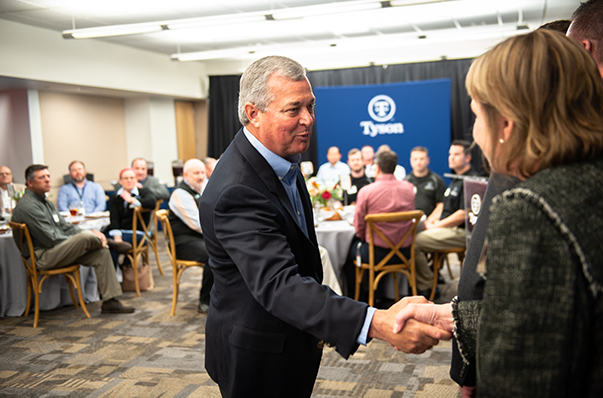 About Tyson Foods
Tyson Foods, Inc., (NYSE: TSN) is one of the world's largest food companies and a recognized leader in protein. Founded in 1935 by John W. Tyson and grown under three generations of family leadership, the company has a broad portfolio of products and brands like Tyson®, Jimmy Dean®, Hillshire Farm®, Ball Park®, Wright®, Aidells®, ibp®, and State Fair®. Tyson Foods innovates continually to make protein more sustainable, tailor food for everywhere it's available and raise the world's expectations for how much good food can do. Headquartered in Springdale, Arkansas, the company has 121,000 team members. Through its Core Values, Tyson Foods strives to operate with integrity, create value for its shareholders, customers, communities and team members and serve as a steward of the animals, land and environment entrusted to it. Visit www.tysonfoods.com.
###
Media Contact:
Derek Burleson, 479-290-6466