Headline
Tyson Foods Earns Top Marks for LGBTQ Equality
Company Achieves Perfect Score on 2018 Corporate Equality Index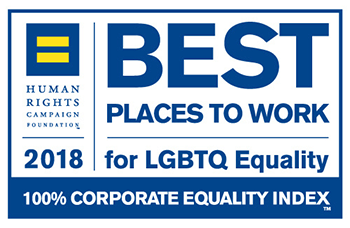 Springdale, Ark. – Nov. 9, 2017 – Tyson Foods, Inc. (NYSE: TSN) proudly announced that it received a perfect score of 100 percent on the 2018 Corporate Equality Index (CEI), a national benchmarking survey and report on corporate policies and practices related to lesbian, gay, bisexual, transgender and queer (LGBTQ) workplace equality, administered by the Human Rights Campaign Foundation. Tyson Foods is one of 609 major U.S. businesses which also earned top marks this year.
"We're proud of our diversity and believe it makes us a stronger, better company. As part of our core values, we strive to be inclusive, operate with integrity and be respectful of each other every day," said Tom Hayes, president and CEO of Tyson Foods. "We are honored to be recognized by the Human Rights Campaign for our ongoing commitment to the LGBTQ community and workplace equality."
The 2018 CEI rated 947 businesses in the report, which evaluates LGBTQ-related policies and practices including non-discrimination workplace protections, domestic partner benefits, transgender-inclusive health care benefits, competency programs and public engagement with the LGBTQ community. Tyson Foods satisfied all of the CEI's criteria and earned the designation as a Best Place to Work for LGBTQ Equality.
This is the second year Tyson Foods achieved a perfect score on the Corporate Equality Index, demonstrating the company's commitment to building an inclusive culture. For more information on the 2018 Corporate Equality Index, or to download a free copy of the report, visit www.hrc.org/cei.
About Tyson Foods, Inc.
Tyson Foods Inc. (NYSE: TSN) is one of the world's largest food companies and a recognized leader in protein. Founded in 1935 by John W. Tyson and grown under three generations of family leadership, the company has a broad portfolio of products and brands like Tyson®, Jimmy Dean®, Hillshire Farm®, Ball Park®, Wright®, Aidells®, ibp® and State Fair®. Tyson Foods innovates continually to make protein more sustainable, tailor food for everywhere it's available and raise the world's expectations for how much good food can do. Headquartered in Springdale, Arkansas, the company has 114,000 team members. Through its Core Values, Tyson Foods strives to operate with integrity, create value for its shareholders, customers, communities and team members and serve as a steward of the animals, land and environment entrusted to it. Visit www.tysonfoods.com.
About The Human Rights Campaign
The Human Rights Campaign Foundation is the educational arm of America's largest civil rights organization working to achieve equality for lesbian, gay, bisexual transgender and queer people. HRC envisions a world where LGBTQ people are embraced as full members of society at home, at work and in every community.
###
Media Contacts:
Caroline Ahn, 312-614-6047, caroline.ahn@tyson.com