Headline
Tyson Foods Earns Top Marks for LGBT Equality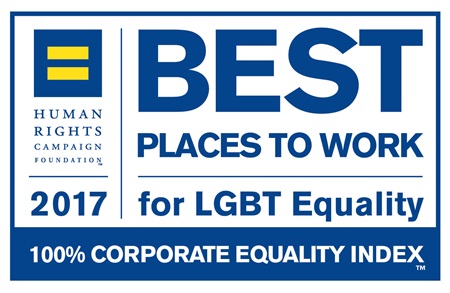 Company Achieves Perfect Score on 2017 Corporate Equality Index
SPRINGDALE, Ark. – Dec. 05, 2016 –
Tyson Foods, Inc. (NYSE: TSN) 
today proudly announced that it was recognized by the Human Rights Campaign (HRC) Foundation as a Best Place to Work for LGBT Equality. The company received a perfect score of 100 percent on the 2017 Corporate Equality Index (CEI), a national benchmarking survey and report on corporate policies and practices related to LGBT workplace equality. Tyson Foods joins the ranks of 517 major U.S. businesses which also earned top marks this year.
"As a Tyson Foods family, we embrace all of our team members regardless of gender, sexual orientation, race, ethnicity, religion, age, disability or any other differences that define who we are.  Inclusion versus exclusion will continue to unlock the potential of our collectively unique and powerful team," said Tom Hayes, president of Tyson Foods. "Through our policies and practices, we strive to foster an inclusive workplace and community because we know it takes the skills, thoughts, backgrounds, and talents of all our team members to be truly great.  We are honored to be recognized by the HRC for our commitment to the LGBT community and workplace equality."
The 2017 CEI rated 1,043 businesses in the report, which evaluates LGBT-related policies and practices including non-discrimination workplace protections, domestic partner benefits, transgender-inclusive health care benefits, competency programs, and public engagement with the LGBT community. Tyson Foods' efforts in satisfying all of the CEI's criteria results in a 100 percent ranking and the designation as a Best Place to Work for LGBT Equality.
For more information on the 2017 Corporate Equality Index, or to download a free copy of the report, visit www.hrc.org/cei.
About Tyson Foods
Tyson Foods, Inc. (NYSE: TSN), with headquarters in Springdale, Arkansas, is one of the world's largest food companies with leading brands such as Tyson®, Jimmy Dean®, Hillshire Farm®, Sara Lee®, Ball Park®, Wright®, Aidells® and State Fair®. It's a recognized market leader in chicken, beef and pork as well as prepared foods, including bacon, breakfast sausage, turkey, lunchmeat, hot dogs, pizza crusts and toppings, tortillas and desserts. The company supplies retail and foodservice customers throughout the United States and approximately 115 countries. Tyson Foods was founded in 1935 by John W. Tyson, whose family has continued to lead the business with his son, Don Tyson, guiding the company for many years and grandson, John H. Tyson, serving as the current chairman of the board of directors. The company currently has approximately 114,000 Team Members employed at more than 400 facilities and offices in the United States and around the world.  Through its Core Values, Code of Conduct and Team Member Bill of Rights, Tyson Foods strives to operate with integrity and trust and is committed to creating value for its shareholders, customers and Team Members. The company also strives to be faith-friendly, provide a safe work environment and serve as stewards of the animals, land and environment entrusted to it.
About the Human Rights Campaign Foundation
The Human Rights Campaign Foundation is the educational arm of America's largest civil rights organization working to achieve equality for lesbian, gay, bisexual transgender and queer people. HRC envisions a world where LGBTQ people are embraced as full members of society at home, at work and in every community.
###
Contact: Caroline Ahn, 312-614-6047, caroline.ahn@tyson.com