Headline
Wright® Brand Sets Out to Improve the Lives of People Named Bacon Across America
After 100 years of mastering bacon, the brand aims to help fellow Bacons become their best selves through its first-ever Better Bacons Contest
Vernon, Texas, July 18, 2023 – As crafters of hand-trimmed, thick-cut, real-wood-smoked bacon for more than 100 years, Wright Brand knows a thing or two about making the best bacon. That's why the brand is setting out to help fellow Bacons across America become the best version of themselves – whether it's through a kitchen makeover, a much-needed vacation or an updated wardrobe.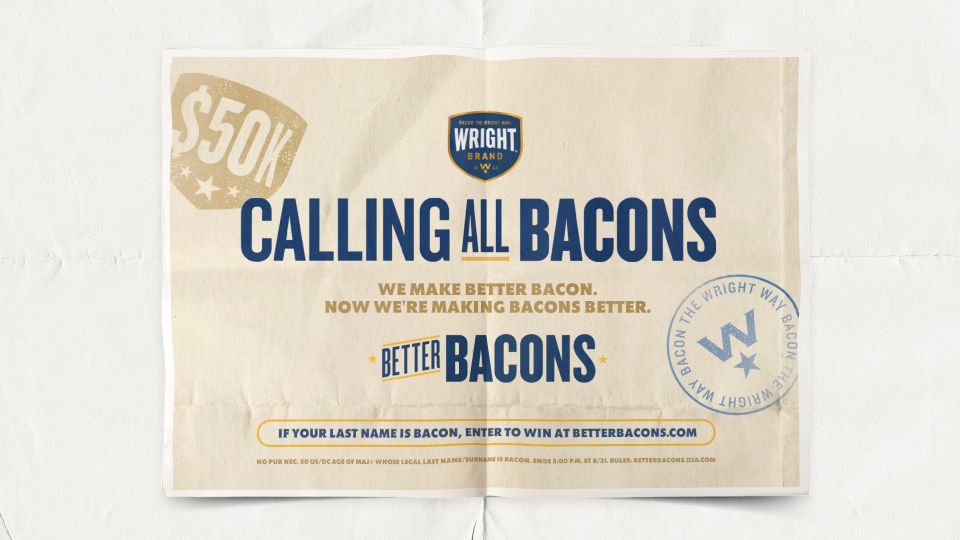 To launch the nationwide call, Wright Brand tracked down a Bacon located in the Chicagoland area to help improve his life and give a taste of what's to come for others lucky enough to carry such a delicious surname.
"Since we've mastered the art of crafting superb bacon, we wanted to extend our expertise to fellow Bacons," said Lindsey Rice, brand manager for Wright Brand. "The Better Bacons contest is about paying it forward and delivering on improving the lives of those who have a special connection to bacon through their surname."
Four applicants will receive up to $10,000 towards improving their lives and ultimately helping make them a better Bacon.
To participate in the search, Wright brand is asking people with the surname of Bacon to submit a one-minute video or written entry sharing why they're deserving and what area of their life they'd level up if selected to receive the prize. To submit and view official contest rules, visit betterbacons.com. Applications are accepted now through August 21, 2023.
To learn more about #BetterBacons or Wright Brand, visit WrightBrand.com or follow the brand @WrightBrand on Instagram and Facebook.
###
About Wright® Brand
Rich in both tradition and flavor, the bold taste of Wright Brand bacon has been savored since Roy Wright and Fay Eggleston handcrafted their first batch in 1922. It's a history of doing things a certain way, and one we don't plan on changing. Wright Brand bacon including Hickory, Applewood, Double Smoked and Maple offerings are all hand-selected, hand-trimmed and 100% wood smoked to impart deliciously and uncompromising rich flavors. It's thick cut Bacon the Wright Way®. For more information on Wright Brand, including product offerings and delicious bacon recipe ideas, visit WrightBrand.com.
Media Contact: Rachel Berin | 773-706-2236