Headline
Galileo® Sandwich Report Finds More Than Half of Americans Are Bored with Their Lunch Options
New cookbook offers inspiration to cure people's lunchtime rut
Springdale, Ark. (May 23, 2023) – A recent survey found that over half of Americans feel bored with their lunch options and seek recipe inspiration, according to the Galileo® Sandwich Report.[1] That's why Galileo brand, crafters of authentic Italian meats, is introducing "Panini Possibilities" – a free first-of-its-kind cookbook uniquely designed for sandwich lovers looking to spice up their lunchtime routine. The book features exclusive recipes developed by five sandwich experts highlighting Galileo salame and pepperoni.
Comprised of individual recipe cards shaped like classic sandwich ingredients, "Panini Possibilities" puts a playful twist on sandwich making and invites everyone to experience the mouth-watering quality of Galileo salame and pepperoni. The Galileo brand uses an age-old process passed down from generation to generation for over 75 years to deliver authentic Italian flavor in every bite.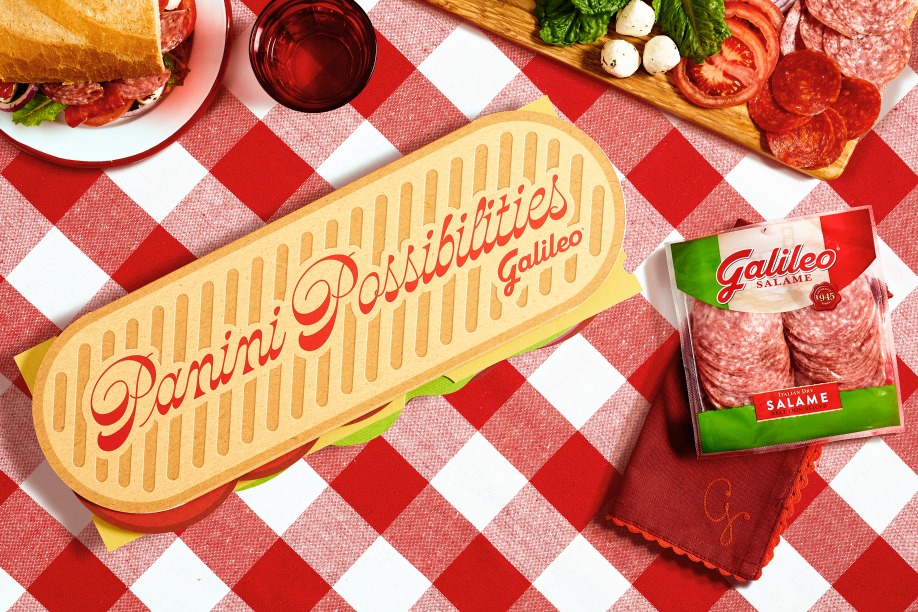 "Lunchtime doesn't have to be mundane," said Jeremy Kross, Galileo senior brand manager. "'Panini Possibilities' encourages experimentation in the kitchen using Galileo authentic Italian salame and pepperoni, which are the perfect ingredients to spice up various sandwich creations, no matter your flavor preferences. Our cookbook alleviates this lunchtime rut through inventive, easy-to-make sandwich recipes that satisfy consumers' craving." 
Whether your lunchtime routine is at home, in the office, or on the go, this unique collection of Galileo brand recipes helps break the monotony and make mealtime more delicious.
Other top findings from the Galileo® Sandwich Report include:
The majority (72%) of Americans enjoy sandwiches

Nearly a third (32%) of Americans say that salame is one of their favorite types of lunch meat

Almost a third (32%) of Americans want more variety in their homemade sandwiches
The brand tapped sandwich experts and beloved content creators @Owen.Han, @RedLeafRanch, @ReadyCedCook, @SheWillEvolve, and @BrittneeCiara to develop sandwich recipes exclusively for the cookbook. Fans can expect unique combinations like Galileo Salame paired with crisp apple, as well as recipes showcasing a variety of flavors and textures ranging from sweet to spicy and creamy to crunchy.
A limited number of free "Panini Possibilities" cookbooks are available via a giveaway through June 15, 2023 and hosted on each influencer's TikTok page. To enter for a chance to win, consumers should go to one of the creator's profiles, locate the sweepstakes post, and comment on the post using #PaniniPossibilities and listing their favorite sandwich recipe. See the official rules here.
For those unable to get their hands on the cookbook, a sampling of recipes can be found on the influencers' TikTok pages and the brand's website.
To learn more about #PaniniPossibilities or Galileo Brand, visit GalileoSalame.com or follow the brand @GalileoSalame on Instagram and Facebook.
[1] This CARAVAN survey was conducted by Big Village among a sample of 1,010 adults 18 years of age and older. The online omnibus study is conducted three times a week among a demographically representative U.S. sample of 1,000 adults 18 years of age and older.  This survey was live on April 3-5, 2023.
###
About Galileo® Brand
Started in 1945 by Frank Sorba in the San Francisco Bay Area, Galileo® Salame was founded on tradition. More than 75 years later, Galileo® Brand has stayed true to the taste and quality that made it a success.  We still craft our Italian meats in the Bay Area, where the temperate climate, like that of northern Italy, makes the location ideal to cure salame and develop its deliciously tangy flavor profile. Galileo® Salame including Italian Dry Salame, Light Italian Dry Salame, All-Natural Italian Dry Salame, Italian Dry Salame Chub, Pepperoni, All-Natural Pepperoni, and Pepperoni Medallions offerings are all crafted with lean hand-trimmed, high-quality pork, giving it mouth-watering flavor and a unique texture. The timeless recipe based on Italian tradition uses a robust herb and spice blend that excites with every bite. For more information on Galileo® Brand, including product offerings and delicious recipe ideas, visit GalileoSalame.com.

NO PURCHASE OR PAYMENT OF ANY KIND IS NECESSARY TO ENTER OR WIN THIS SWEEPSTAKES OR TO CLAIM A PRIZE. A PURCHASE WILL NOT INCREASE YOUR CHANCES OF WINNING.
The Panini Possibilities with Galileo®Salame TikTok Giveaway (the "Sweepstakes") begins at 8 a.m. PST on May 23, 2023, and ends at 11:59 p.m. PST on June 15, 2023 (herein after referred to as the "Sweepstakes Period").