Headline
Tyson® Brand Introduces Chicken Sandwiches and Sliders, Bringing Restaurant-Quality Taste to the Comfort of Your Home
Los Angeles locals offered access to the new innovations with an exclusive Tyson Crave-Thru experience
SPRINGDALE, Ark., March 7, 2023 –Tyson brand knows that when a craving hits, you need to satisfy it instantly. That's why the chicken leader is bringing Instant Craveification to consumers everywhere. The new Tyson Chicken Breast Sandwiches and Sliders are available in Original and Spicy. The flavorful, restaurant-quality sandwich is ready in minutes, made with breaded, all-natural* white meat chicken and an artisan bun. The new product is available in the frozen snacks section at retailers nationwide.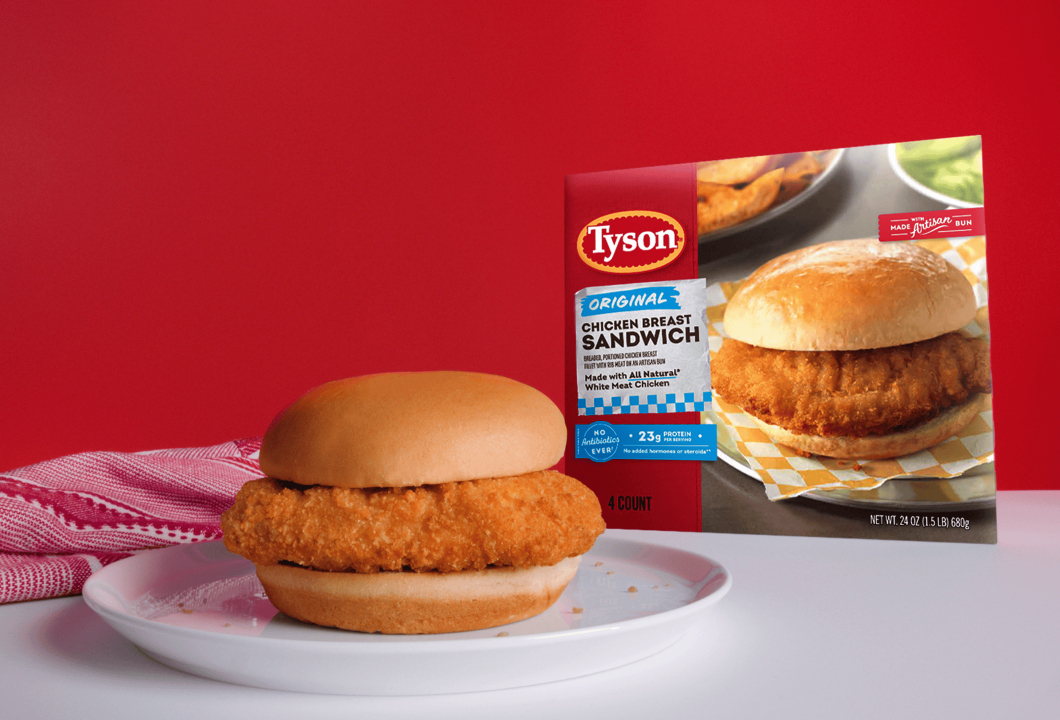 "It's now easier than ever for people to get the chicken sandwich they crave without leaving home," said Colleen Hall, senior director of marketing, Tyson brand. "We know nothing compares to a freshly made hot and juicy chicken sandwich, which is why we have perfected the chicken sandwich experience, enjoyed from the comfort of your kitchen and ready in minutes. The new Tyson Chicken Sandwiches and Sliders deliver on satisfying your craving quickly with a mouthwatering, protein-packed sandwich."
To mark Tyson Foods' foray into the chicken sandwich space, the brand is flipping the classic drive-thru experience with an exclusive activation in Los Angeles. Fans are invited to try the new Chicken Sandwiches at the first-ever Tyson Crave-Thru — a QSR-style drive-thru experience in the driveway of a residential home in the heart of Toluca Lake. A limited number of free Chicken Sandwiches are available for one day only on March 22, 2023. To get more information and RSVP to attend the event, visit www.TysonCraveThru.com. Tyson Chicken Breast Sandwiches are available in 24-ounce packages, providing four sandwiches per carton and 23 grams of protein per serving. Tyson Chicken Breast Sliders are available in 21-ounce packages, providing eight sliders per carton and 19 grams of protein per serving.
For more information, visit www.Tyson.com and follow @TysonBrand and #InstantCraveification on Facebook and Instagram.
*No artificial ingredients, minimally processed.
###
About Tyson® Brand
In the 1930s, John W. Tyson moved his family to Arkansas and began delivering farm-raised chickens from his truck. From those humble beginnings, the Tyson brand grew, finding new ways to help feed the nation while staying true to its original belief that every family deserves to have high-quality farm-raised chicken on their table. The brand's portfolio of products includes Tyson® Fresh and Frozen Chicken, Tyson Naturals® Chicken, Grilled & Ready® Chicken, Any'tizers® Snacks, Tyson® Air Fried Chicken, Tyson® Chicken Nuggets and Crispy Strips, giving families more to love every day with its vast portfolio of products. For more information, visit www.Tyson.com.