Headline
Limited Amounts of Tyson® Brand Frozen, Fully Cooked Chicken "Fun Nuggets" Voluntarily Recalled
Berryville, Ark. November 4, 2023 – Tyson® Brand is voluntarily recalling approximately 30,000 pounds of frozen, fully cooked chicken "Fun Nuggets." This includes Tyson® Brand fully cooked "Fun Nuggets" sold to retailers in 29-ounce packages. No other Tyson® brand products are affected. 
A limited number of consumers have reported they found small, pliable metal pieces in the product, and out of an abundance of caution, the company is recalling this product.  
The product was produced at one location on September 5, 2023. Impacted products bear the product codes 2483BRV02 07, 2483BRV02 08, 2483BRV02 09, or 2483BRV02 10, establishment code P7211, with a best if used by date of September 4, 2024. Product cases may be identified by code 048153-6910, 10000048153.  
The following product is impacted: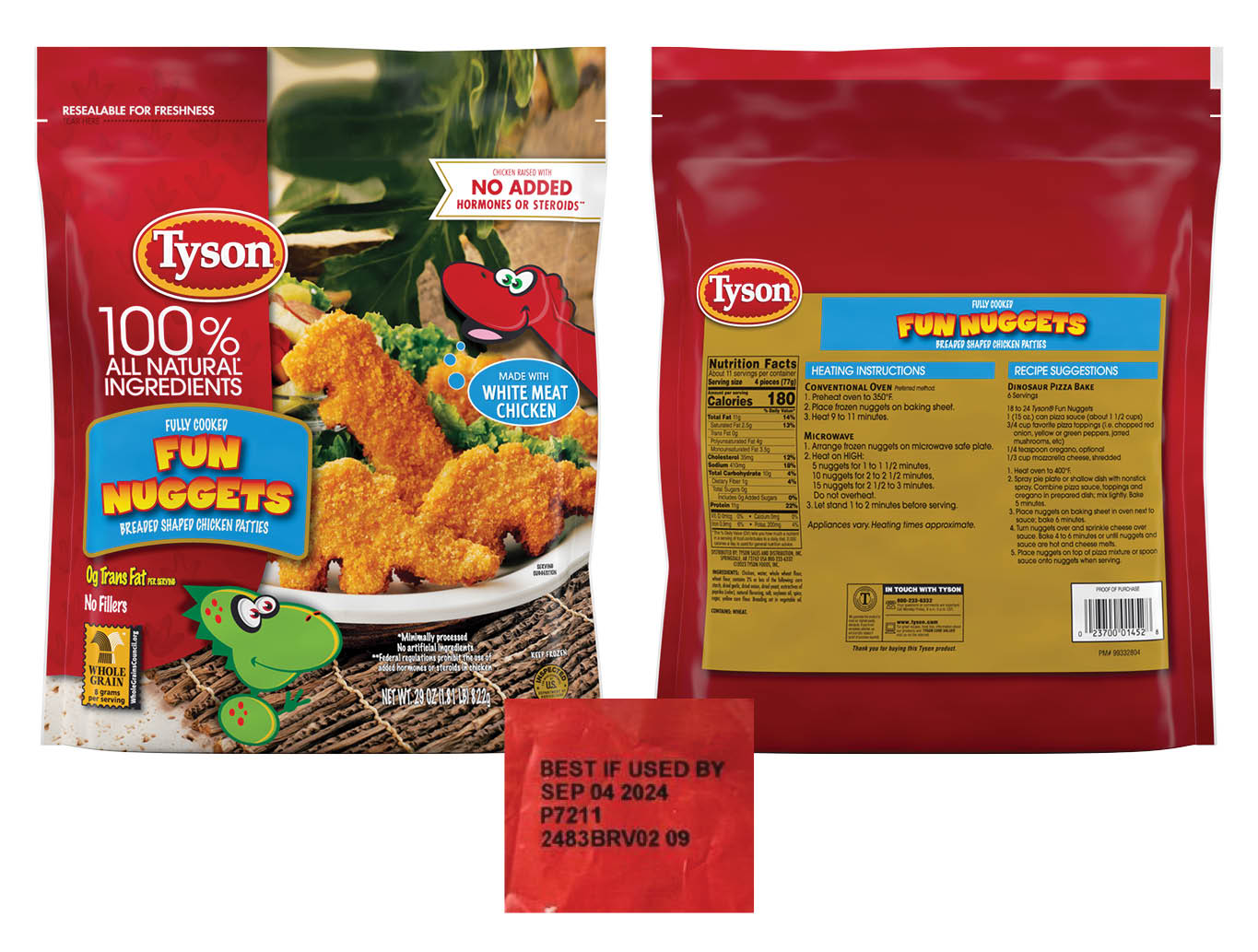 Consumers who have purchased the affected item should cut the UPC and date code from the packaging, discard the product and call or text 1-855-382-3101. 
A comprehensive list of retail stores that subsequently received the product will be posted on USDA's website. Use the following link to locate the "retail distribution list." http://www.fsis.usda.gov/FSIS_Recalls/Open_Federal_Cases/index.asp 
Consumers with questions may call 1-855-382-3101 Monday through Friday, 8 a.m. to 5 p.m. CST. 
News media who have questions should contact Laura Burns at Laura.Burns2@tyson.com. 
###