Headline
All you need is (Nuggets of) Love
Tyson® Nuggets of Love™ chicken nuggets are back by popular demand with expanded retail distribution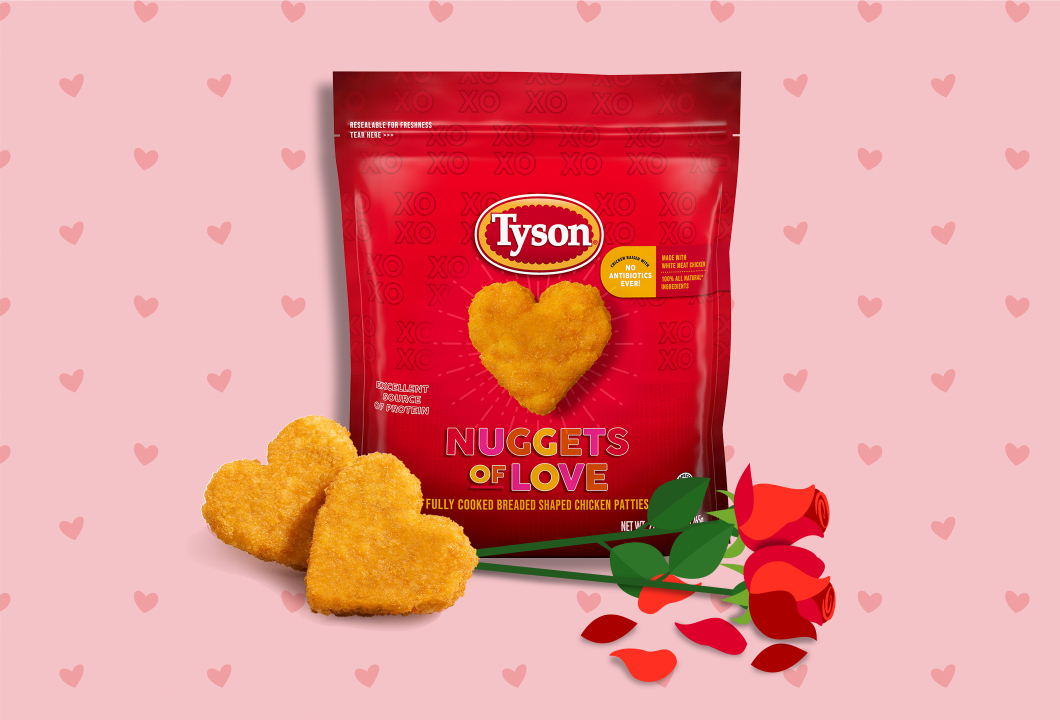 Springdale, Ark. (January 18, 2023) – Tyson® Nuggets of Love™—the brand's limited-edition release of heart-shaped chicken nuggets—are back by popular demand. This year, Tyson Foods has expanded distribution nationwide just in time for Valentine's Day. These nuggets have gained popularity as a heartfelt way to celebrate Valentine's Day with sweethearts, friends, and family by offering the same great taste fans know and love with a festive heart shape.
A recent survey1 found 84% of Americans say heart-shaped foods are a fun way to show love on Valentine's Day and more than half have happy memories of sharing chicken nuggets with people they love, making Tyson® Nuggets of Love chicken nuggets the perfect way to celebrate this season.
"If the way to one's heart is really through the stomach, then Nuggets of Love are must-have this year. There's no better way to celebrate the season of love than with a heart-shaped chicken nugget," said Colleen Hall, senior director of marketing at Tyson brand. "That's why we're making it easier than ever for fans to get their hands on these heart-shaped nuggets with expanded distribution nationwide."
Made with 100% white meat chicken raised with no antibiotics ever, Nuggets of Love chicken nuggets are pre-cooked and lightly breaded chicken nuggets the whole family will enjoy. Available in 27oz packages, they're now available in the freezer aisle of stores nationwide for a limited time.
Fans are also invited to follow along on the Tyson brand Instagram page leading up to Valentine's Day to see how the beloved chicken brand is encouraging its followers to celebrate the season of love with Valentine-inspired cards.   
1This CARAVAN survey was conducted by Big Village among a sample of 1,005 adults 18 years of age and older, including 352 children living in their households. The online omnibus study is conducted three times a week among a demographically representative U.S. sample of 1,000 adults 18 years of age and older.  This survey was live on January 6-8, 2023. Statistically significant differences between sub-audiences are tested at a 95% confidence level.
About Tyson® Brand
In the 1930s, John W. Tyson moved his family to Arkansas and began delivering farm-raised chickens from his truck. From those humble beginnings, the Tyson brand grew, finding new ways to help feed the nation while staying true to its original belief that every family deserves to have high-quality farm-raised chicken on their table. The brand's portfolio of products includes Tyson® Fresh and Frozen Chicken, Tyson Naturals® Chicken, Grilled & Ready® Chicken, Any'tizers® Snacks, Tyson® Air Fried Chicken, Tyson® Chicken Nuggets and Crispy Strips, giving families more to love every day with its vast portfolio of products. For more information, visit www.Tyson.com. 
About Big Village
Big Village is a global advertising, technology, and data company. Driven by our diverse group of experts, we provide a new way of working by bringing programmatic solutions, media, insights, and creative all under one roof. Big Village is headquartered in New York and has 12 offices across North America, Europe, and Australia. Find out more at https://big-village.com/.