Headline
Tyson Foods Breaks Ground on Caseyville Prepared Foods Facility Expansion
$180M investment increases automation, creates 250 new jobs and seven new production lines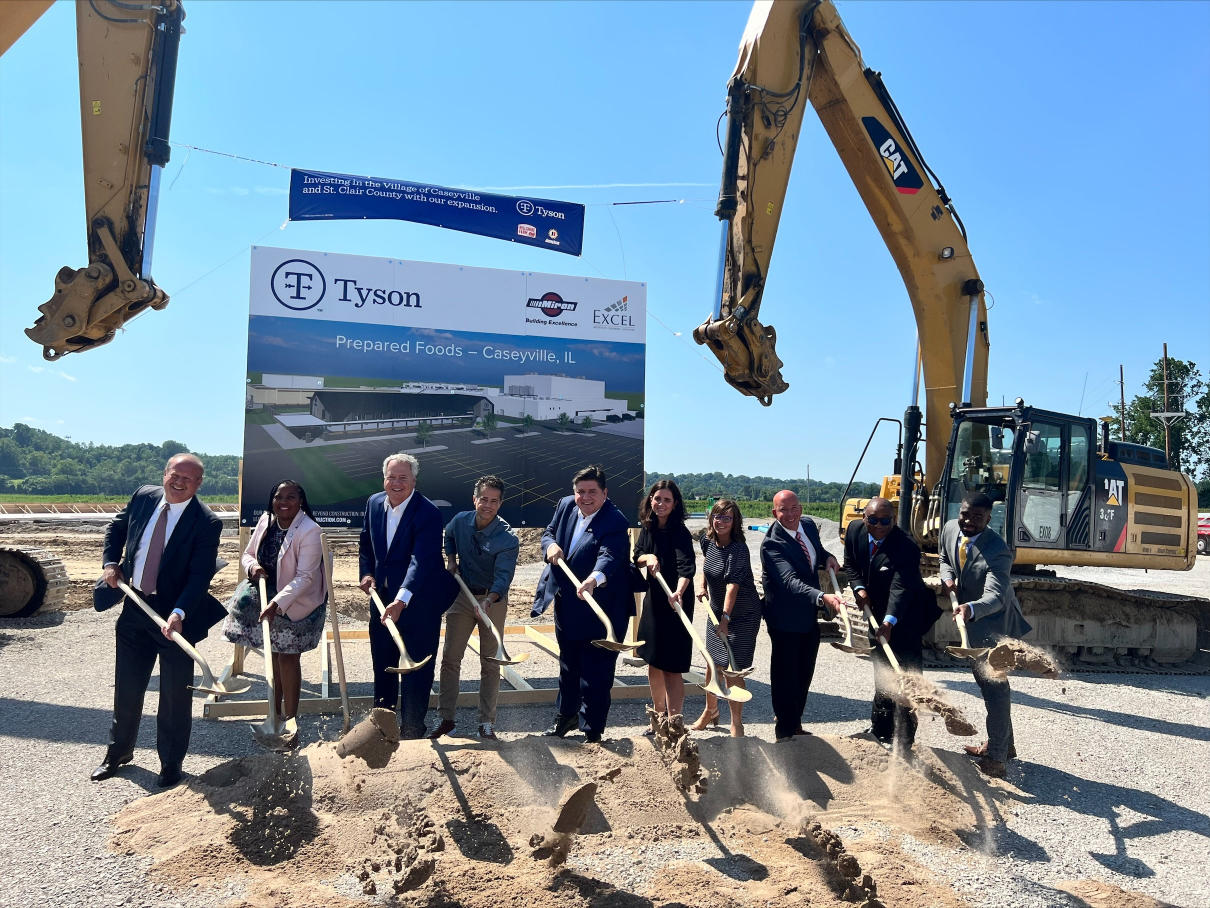 CASEYVILLE, Ill.  – August 3, 2022 – Tyson Foods has officially broken ground on an expansion project at its Caseyville prepared foods facility that will increase automation and create 250 new jobs. Tyson Foods leadership, along with state and local officials, celebrated the $180 million investment project that will help meet growing demand for Tyson Foods' iconic Hillshire Farm® and Jimmy Dean® branded products. The first line is expected to begin production this fall with the expansion set to be completed in the summer of 2023.
"We're thrilled to celebrate the expansion of our Caseyville prepared foods plant, creating new job opportunities for those in the community and keeping ease and efficiency in mind for our current team members," said Noelle O'Mara, Group President, Prepared Foods, Tyson Foods. "With automated warehousing and robotics at the heart of the project, we're looking forward to its full completion.
The project will be completed in phases with the majority of work being complete by summer 2023. The Caseyville plant currently produces Hillshire Farm® and Jimmy Dean® products and the 170,000 square foot expansion will specifically allow a larger production of grab-n-go snacking and breakfast items.
The groundbreaking ceremony brought together representatives from Tyson Foods leadership, the City of Caseyville and the state, including Governor J.B. Pritzker.
"I am thrilled to celebrate the expansion of Tyson Foods' Caseyville facility thanks to our EDGE credit program," said Governor JB Pritzker. "Tyson will be expanding their regional footprint by 170,000 square feet and over 250 new jobs with a total investment of $180 million in this community. Tyson's decision to expand in Illinois speaks to our strengths in manufacturing, our world-class infrastructure, and our abundant — and highly talented — workforce."
The Caseyville facility employs 293 team members and paid more than $10 million in wages during its 2021 fiscal year. This builds on a significant economic impact generated with over $933 million in the state of Illinois. Tyson Foods recently raised total compensation for team members, including raising hourly wages at the facility to at least $21 an hour. Interested applicants can visit https://www.tysonfoods.com/careers to learn more about Tyson's career paths.  
About Tyson Foods 
Tyson Foods, Inc. (NYSE: TSN) is one of the world's largest food companies and a recognized leader in protein. Founded in 1935 by John W. Tyson and grown under four generations of family leadership, the company has a broad portfolio of products and brands like Tyson®, Jimmy Dean®, Hillshire Farm®, Ball Park®, Wright®, Aidells®, ibp® and State Fair®. Tyson Foods innovates continually to make protein more sustainable, tailor food for everywhere it's available and raise the world's expectations for how much good food can do. Headquartered in Springdale, Arkansas, the company had approximately 137,000 team members on Oct. 2, 2021. Through its Core Values, Tyson Foods strives to operate with integrity, create value for its shareholders, customers, communities and team members and serve as a steward of the animals, land and environment entrusted to it. Visit www.tysonfoods.com.  
###
Media Contact: Mayci Blankenship | 479-422-6636