Headline
Tyson Foods Hosts Contract Poultry Farmer Advisory Council
Leadership Meets with Contract Poultry Growers for Insights and Listening Sessions
Springdale, AR – Nov. 21, 2022 – Tyson Foods leadership and the company's Contract Poultry Farmer Advisory Council recently met to discuss issues most important to the farmers who grow chickens for Tyson. The meeting was held Nov. 8-9 and was the first council meeting after a two-year pause due to enhanced safety protocols during the pandemic.
"The success of Tyson Foods depends on the hard work and dedication of our contract growers. We also appreciate that animal husbandry isn't simply a job – it's a way of life. The birds our farmers raise benefit consumers by providing a quality, affordable bird from a brand they trust. That's important work," said David Bray, Group President of Poultry, at Tyson Foods.
During two days at the company's world headquarters in Springdale, Arkansas, farmers from North Carolina, Arkansas, Kentucky and Missouri met with Tyson Foods' leadership, animal welfare, commodity and regulatory teams.  The council provides a platform for farmers and company leaders to share ideas and feedback, best practices for raising healthy birds and how Tyson strives to become the world leader in animal welfare through compassionate care, based in sound science.
"We are proud to be contract growers for Tyson because they actively listen to their growers and support them in solving grower concerns," Deena Morrison, a contract poultry farmer.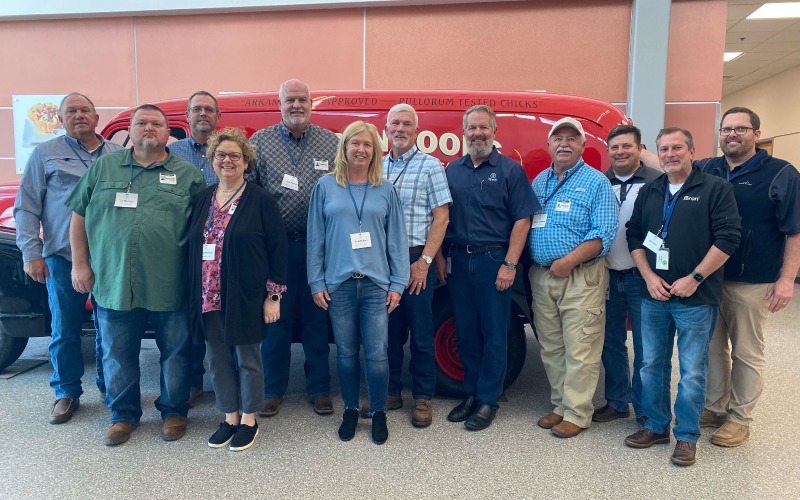 Tyson Foods has been successfully working with poultry farmers like Morrison on a contractual basis since the late 1940s. In 2018, Tyson Foods launched the advisory council to enhance communications and transparency with the thousands of independent farmers who grow the company's chickens. The goal was to provide a platform where contract farmers can share their views of the business environment for raising chickens and allow Tyson Foods to gather insights to help improve operations and grower communications.
The company contracts with more than 3,600 independent poultry farmers in 18 states who raise chickens for its poultry operations. The average farmer has contracted with Tyson Foods for 17 years and almost 27% of Tyson poultry growers have been raising chickens for the company for two or three generations. 
"We enjoyed our visit to Tyson World Headquarters," said poultry farmer Rusty Mulford. "It gave us a better understanding of the leadership and management of the company we have worked with for many years. The highlight was the Founders Room tour."
Tyson Foods has relationships with farmers and ranchers that extend back decades. Initiatives like the advisory council, Contract Poultry Farmers' Bill of Rights and Five Domains are intended to help support poultry farmers in their pursuit of success.
"We believe our contract growers are the best in the industry. Their success is our success," said Bray. "We trust them to raise birds for our business and value their perspectives as we work to feed the world together."
### 
About Tyson Foods, Inc. 
Tyson Foods, Inc. (NYSE: TSN) is one of the world's largest food companies and a recognized leader in protein. Founded in 1935 by John W. Tyson and grown under four generations of family leadership, the Company has a broad portfolio of products and brands like Tyson®, Jimmy Dean®, Hillshire Farm®, Ball Park®, Wright®, Aidells®, ibp® and State Fair®. Tyson Foods innovates continually to make protein more sustainable, tailor food for everywhere it's available and raise the world's expectations for how much good food can do. Headquartered in Springdale, Arkansas, the Company had approximately 137,000 team members on October 2, 2021. Through its Core Values, Tyson Foods strives to operate with integrity, create value for its shareholders, customers, communities and team members and serve as a steward of the animals, land and environment entrusted to it. Visit www.tysonfoods.com. 
Media Contact: Alicia Buffer | 479-290-1349