Headline
Tyson Foods, Save A Lot Donate Truckload of Protein to St. Louis Area Foodbank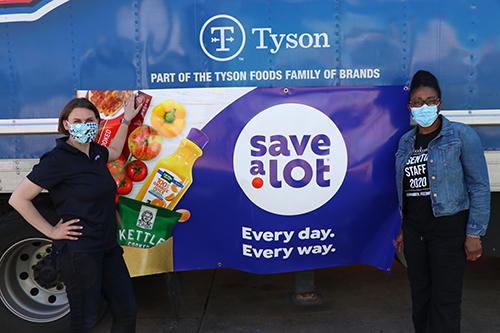 On the left is Sarah Griffin, Director of Communications for Save A Lot.
On the right is Lenora Gooden, Vice President of Product Acquisition & Government Compliance for the St. Louis Area Foodbank.
SPRINGDALE, Ark. – June 12, 2020 – Tyson Foods, Inc. (NYSE:TSN) and Save A Lot, a U.S. discount grocer, partnered today to donate 40,000 pounds of chicken to the St. Louis Area Foodbank to help eliminate hunger in Missouri and Illinois.
The St. Louis Area Foodbank, which serves 26 counties in Missouri and Illinois, will distribute the donated food through its dedicated partnership of over 500 hunger-relief programs and local agencies, including soup kitchens, food pantries, shelters and residential programs.
"It takes all of us working together to ensure no one in our community goes hungry," said Meredith Knopp, President and CEO of the St. Louis Area Foodbank. "We're grateful to partners like Tyson Foods and Save A Lot for their continued support of our mission to build stronger communities by empowering people with food and hope. This donation helps provide nutritious protein during a time of increased need across our 26-county service territory."
A longstanding partner of the St. Louis Area Foodbank, St. Louis-based Save A Lot stores and its local distribution center in Edwardsville, Ill., have donated nearly 400,000 pounds of food this year to-date in support of the organization's efforts to create a stronger, healthier bi-state region where no one goes to bed hungry.
"Now more than ever, the issue of food insecurity is hitting home for communities across the country," said Damir Kordic, Vice President of Operations for Save A Lot. "As your neighborhood grocery store, Save A Lot is committed to providing much-needed support and services to those communities who need it most, including right here in our own backyard of St. Louis. We're humbled to join Tyson Foods in making this donation to the St. Louis Area Foodbank."
 
This year, Tyson Foods announced it is committing $13 million to support critical needs in local communities where the company operates in response to the COVID-19 pandemic. This investment includes $2 million in community grants and more than $11 million worth of products donated by the company since March 11.
The company has created a Community Response Fund that will distribute grants and food donations to non-profit organizations working to help people in Tyson Foods' plant communities across the U.S. Community grants will be awarded by invitation.
"Partnering with organizations like St. Louis Area Foodbank and Save A Lot is important to us in raising awareness about food insecurity in communities all around the U.S.," said Micah Van Hilsen, customer development manager for Tyson Foods. "Every year, St. Louis Area Foodbank serves more than 392,000 people. We're honored to support those extraordinary efforts."
To learn more about St. Louis Area Foodbank and its hunger-relief efforts, visit STLFOODBANK.ORG. 
###
About Tyson Foods
Tyson Foods, Inc. is one of the world's largest food companies and a recognized leader in protein. Founded in 1935 by John W. Tyson and grown under three generations of family leadership, the company has a broad portfolio of products and brands like Tyson®, Jimmy Dean®, Hillshire Farm®, Ball Park®, Wright®, Aidells®, ibp® and State Fair®. Tyson Foods innovates continually to make protein more sustainable, tailor food for everywhere it's available and raise the world's expectations for how much good food can do. Headquartered in Springdale, Arkansas, the company has 141,000 team members. Through its Core Values, Tyson Foods strives to operate with integrity, create value for its shareholders, customers, communities and team members and serve as a steward of the animals, land and environment entrusted to it. Visit TYSONFOODS.COM.
About Save A Lot
Founded in 1977, Save A Lot is one of the largest discount grocery store chains in the U.S. with over 1,000 stores in 33 states and 14 wholesale distribution centers. Save A Lot remains true to its mission of adding unmatched value to its local communities. Every day. Every way. Customers enjoy significant savings compared to traditional grocery stores on great tasting, high quality private label brands, national brand products, USDA-inspected meat, farm-fresh fruits and vegetables, and other non-food items. For more information, visit SAVEALOT.COM and follow Save A Lot on Facebook (FACEBOOK.COM/SAVEALOT) and Instagram (@SaveALotFoodStores). 
About the St. Louis Area Foodbank
The St. Louis Area Foodbank began its service to the community in 1975. Since that time, the organization has grown to become the bi-state region's largest nonprofit 501c3 food distribution center dedicated to feeding individuals in need. Through a robust network of community partners and programs throughout 26 counties in Missouri and Illinois, the Foodbank helps provide 37 million meals annually. More than 392,000 people in the bi-state region rely on the Foodbank for assistance each year. For 45 years, the St. Louis Area Foodbank has been there for people dealing with crisis, be it a natural disaster, a global pandemic, or the everyday crisis of hunger. For more information on Foodbank's Covid-19 relief and response efforts and how people can access resources near them, call (314) 292-6262 or visit HTTP://STLFOODBANK.ORG/COVID19.
Media contact:
Morgan Watchous, Tyson Foods
Sarah Griffin, Save A Lot
Ryan Farmer, St. Louis Area Food Bank