Headline
Tyson Foods' Downtown Springdale Office Receives LEED Building Certification
SPRINGDALE, Ark. – November 19, 2019 - Tyson Foods' office building in downtown Springdale, known as "Tyson Emma", recently achieved LEED (Leadership in Energy and Environmental Design) Silver Certification from the U.S. Green Building Council (USGBC).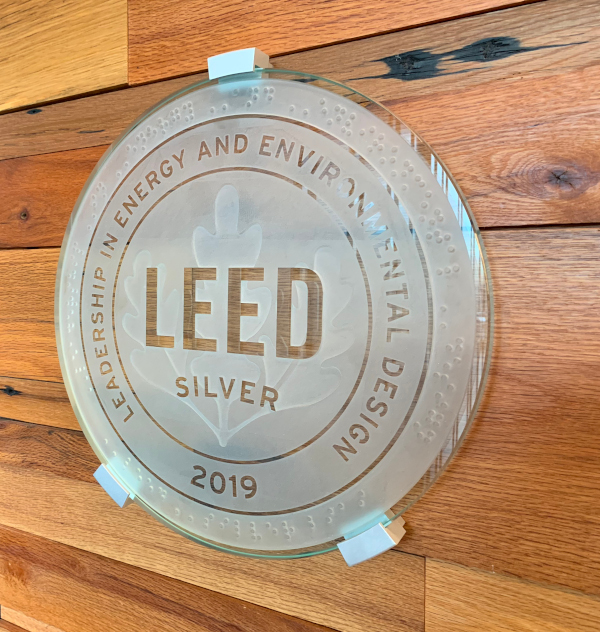 The LEED Certification is a rating system recognizing environmentally responsible building practices for the design, construction, operation and maintenance of buildings.
Tyson Emma was built in 2017 by repurposing the company's original headquarters and the former Brown Hatchery building to create a new 56,000-square-foot space that features a dramatic glass atrium while preserving remnants of the original structures. The reconstruction is part of Tyson Foods' ongoing commitment to revitalize downtown Springdale.  
"We're proud to receive the LEED Silver Certification of the Tyson Emma building and see our vision to revitalize downtown Springdale come to life," said John R. Tyson, Chief Sustainability Officer for Tyson Foods. "As we continue our work to bring innovation and technology to downtown Springdale, we're committed to doing it in an environmentally responsible way."
The Tyson Emma building features wood reclaimed from the original buildings which accent the interior, including the reception area, stair treads, walls and landing. The reclaimed wood and original brick facades were maintained, reinforcing the company's connection between innovation and history. The structural steel, reinforcing steel, steel decking and steel wall studs used in the construction of the building have 69% post-consumer recycled content and were manufactured within 150 miles of the building site.  
Located along the Razorback Greenway shared-use trail, the building's location encourages team members to bike or walk to work. For team members driving to work, carpool and fuel-efficient parking take priority. Additionally, the parking lot uses bioswales to manage rainwater to help prevent floods and overflow.
In addition to the Tyson Emma Building, the company opened the Tyson Manufacturing and Automation Center (TMAC) in downtown Springdale in 2019 by repurposing another historic Tyson building that once served as the company's repair shop for its live operations. TMAC is a state-of-the-art facility designed to help the company develop automation and robotics to be used in its food production facilities. In 2016, the company opened a 28,000-square-foot building located at 516 E. Emma Ave., named the Tyson Foods JTL Building in recognition of its original use as the first truck terminal for Jones Truck Lines. Tyson Foods employs approximately 350 team members in the downtown Springdale facilities. 
Tyson Foods partnered with architecture firm HOK to design the Tyson Emma building. Milestone Construction Company, based in Springdale, was the general contractor. In addition to the LEED Silver Certification, the building recently received a Distinguished Award from the AIA chapter (American Institute of Architects) Chapter of St. Louis, an award given to architecture projects that show significant rigor and achievement in design.
About Tyson Foods
Tyson Foods, Inc. (NYSE: TSN) is one of the world's largest food companies and a recognized leader in protein. Founded in 1935 by John W. Tyson and grown under three generations of family leadership, the company has a broad portfolio of products and brands like Tyson®, Jimmy Dean®, Hillshire Farm®, Ball Park®, Wright®, Aidells®, ibp®, and State Fair®. Tyson Foods innovates continually to make protein more sustainable, tailor food for everywhere it's available and raise the world's expectations for how much good food can do. Headquartered in Springdale, Arkansas, the company had 141,000 team members at September 28, 2019. Through its Core Values, Tyson Foods strives to operate with integrity, create value for its shareholders, customers, communities and team members and serve as a steward of the animals, land and environment entrusted to it.
Contact: Derek Burleson, 479-290-6466, derek.burleson@tyson.com