Headline
Know Hunger Chicago Holds Snap Challenge With Chicago Urban League and Metropolitan Board
Tyson Foods and Chicago Urban League Partner to Educate Leaders on the Misconceptions of SNAP Benefits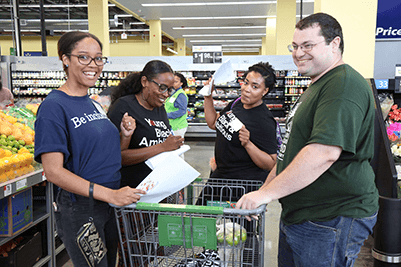 Chicago, Ill. – July 24, 2017 – Tyson Foods, Inc. and Chicago Urban League participated in the KNOW Hunger Challenge over the weekend as part of the KNOW Hunger Chicago project to educate community leaders on the struggles Supplemental Nutrition Assistance Program (SNAP) recipients go through to feed themselves and their families.
The KNOW Hunger Challenge is an interactive event designed to increase hunger awareness and fight food insecurity by offering education about nutritional opportunities through SNAP and first-hand experience with the challenges families commonly face in a budgeted shopping experience. The experience hits close to home with the allowance for an average family using SNAP benefits of around $100 per week.
The SNAP Challenge, held at the Chicago Urban League, featured teams from the organization's Metropolitan Board, a young professional auxiliary board, and community members that were given $100 each to shop for a week's worth of food for a family of four. The teams were made up of Metropolitan Board members, staff and leadership from Chicago Urban League, and team members from Tyson Foods' area locations.
The teams were charged with shopping at a local store, then returning to Chicago Urban League where their purchases were presented to a panel of judges. The food was judged on criteria including effective use of funds, nutritional value and culinary creativity. The teams discussed their shopping experience, including ways the community can get more involved in hunger relief. The food was subsequently donated to Greater Harvest Baptist Church. The winning team made up of Rachel Roberts, Martha Wilkins and Kevin Wright spent $103.61. The judges selected their team because of their blend of healthy foods and creative meal combinations, a very important combination for families on budget looking to maximize their nutritional benefits.
"Today's challenge showed participants just how difficult it is to feed a family on $100 per week, something that many Chicagoans struggle with," said Tyson Foods' Ashlee Johnson, manager of state and local government relations. "The SNAP Challenge and similar programming is the driving force behind the KNOW Hunger campaign here in Chicago and across the country. We want the community to know that hunger hits closer to home than you'd think, and feeding a family, even with benefit systems in place, is hard."
"The KNOW Hunger Challenge is directly connected with the Urban League's mission to provide economic empowerment, educational opportunities and social justice for our community," said Shari Runner, President and CEO, Chicago Urban League. "We hear all too often from our community partners that hunger is a barrier to success, and we're proud to be a part of an initiative that educates and empowers communities to make healthy food choices even with limited resources."
This SNAP Challenge is part of KNOW Hunger Chicago, a one-year initiative by Tyson Foods and Chicago Urban League to raise awareness of food insecurity and nutrition education. The organizations have hosted local health fairs, made protein donations to area food banks, held thought leadership exercises and planned educational community opportunities throughout their one-year initiative in the area.
This half-day shopping SNAP Challenge was created by Elanco and Tyson Foods in the spring of 2012.
Tyson Foods has been active in hunger relief for many years, donating more than 100 million pounds of protein to food banks and other relief agencies since 2000. As part of its KNOW Hunger campaign, Tyson Foods helped fund one of the largest and most comprehensive studies ever conducted on attitudes and perceptions of hunger, discovering that one-in-four Americans worry about having enough money to put food on the table.
About Tyson Foods
Tyson Foods, Inc. (NYSE: TSN), with headquarters in Springdale, Arkansas, is one of the world's largest producers of chicken, beef, pork and prepared foods that include leading brands such as Tyson®, Jimmy Dean®, Hillshire Farm®, Sara Lee® frozen bakery, Ball Park®, Wright®, Aidells® and State Fair®. Founded in 1935 by John W. Tyson, Tyson Foods provides a wide variety of protein-based and prepared food products and is the recognized market leader in the retail and foodservice markets it serves, supplying customers throughout the United States and approximately 130 countries. Through its Core Values, Code of Conduct and Team Member Bill of Rights, Tyson Foods strives to operate with integrity and trust and is committed to creating value for its shareholders, customers and Team Members. The company also strives to be faith-friendly, provide a safe work environment and serve as stewards of the animals, land and environment entrusted to it.
About Chicago Urban League
Established in 1916, the Chicago Urban League works for economic, educational and social progress for African Americans and promotes strong sustainable communities through advocacy, collaboration and innovation. For more information, visit www.thechicagourbanleague.org. Find the Chicago Urban League on Facebook and Twitter.
About the Metropolitan Board
The Metropolitan Board of the Chicago Urban League is Chicago's young professional organization of choice for its distinctive capacity and commitment in providing activities that are characterized by excellence in community service, fundraising and dedication to the nurturance and development of its diverse members to empower communities and change lives through consistent involvement in the Urban League movement. For more information about the Metropolitan Board, please visit www.metroboard.org.
###
Media Contacts:
Emma Sheer, FleishmanHillard, 312.729.3687, Emma.Sheer@fleishman.com
Derek Burleson, Tyson Foods, 479.290.6466, Derek.Burleson@tyson.com
Nicole G. Joseph, Metropolitan Board of the Chicago Urban League, 773.988.4911, pr@metroboard.org
Quinton Arthur, Metropolitan Board of the Chicago Urban League, 773.354.1143, pr@metroboard.org
Chelsea Whittington, Chicago Urban League, 773.451.3524, cwhittington@thechicagourbanleague.org