Headline
Tyson Foods' New Leaders Position Company for Future Growth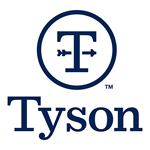 Boca Raton, Fla. – Feb. 21, 2017 – Tyson Foods (NYSE: TSN) President and CEO Tom Hayes today outlined his vision for how the company will shape the future of food. Speaking at the 2017 Consumer Analyst Group of New York (CAGNY) Conference along with Sally Grimes, president of Tyson's retail business, Hayes said the company is strong today and will lead for tomorrow by growing its portfolio of protein-packed brands and delivering sustainable food at scale.
"The purpose of our company is to raise the world's expectations for how much good food can do, and we're uniquely positioned to deliver just that," said Hayes.
The company will continue investing in innovation that will bring to market a wide variety of new products that meet consumers' desire for fresh food, more protein and in flexible forms that can be eaten seamlessly throughout the day. The company highlighted a dozen new products and announced that all Tyson® consumer brand products would feature chicken with No Antibiotics Ever (NAE).
"We're driving growth through strong innovation and brand-building," said Grimes.
Tyson Foods also is deepening its commitment to a more sustainable food system. The company will innovate to develop new solutions that deliver healthier food, healthier animals, healthier workplaces and a healthier environment. In this commitment, the company sees a long-term opportunity to grow and increase profits sustainably. Tyson Foods' holistic sustainability plan includes commitments such as:
Expanding its NAE chicken offerings, making Tyson Foods the world's leading producer of NAE chicken
Setting a goal of reducing workplace injuries and illnesses by 15 percent year over year
Establishing strategic partnerships to set science-based sustainability goal
Continuing third-party audits of farms to certify humane treatment of chickens
Improving how chickens are raised through a concept farm, with innovations designed to be better for the birds, the environment and food safety
Increasing transparency across the business, including sustainability efforts
"For us, sustainability isn't a single issue; it's about focusing on multiple dimensions in order to advance the whole," said Hayes. "We will use our reach, capabilities and resources to drive positive change at a scale we believe no other company can match."
Hayes also said the company's new approach to financial fitness will fund investment in long-term growth. It will include efforts to reduce waste across the company, the allocation of capital for growth and transforming business models through technology.
Reflecting the new direction of the company, Tyson Foods today unveiled a new corporate logo. A downloadable version is available here.
About Tyson Foods
Tyson Foods, Inc. (NYSE: TSN), with headquarters in Springdale, Arkansas, is one of the world's largest food companies with leading brands such as Tyson®, Jimmy Dean®, Hillshire Farm®, Sara Lee®, Ball Park®, Wright®, Aidells® and State Fair®.  It's a recognized market leader in chicken, beef and pork as well as prepared foods, including bacon, breakfast sausage, turkey, lunchmeat, hot dogs, pizza crusts and toppings, tortillas and desserts. The company supplies retail and foodservice customers throughout the United States and approximately 115 countries. Tyson Foods was founded in 1935 by John W. Tyson, whose family has continued to lead the business with his son, Don Tyson, guiding the company for many years and grandson, John H. Tyson, serving as the current chairman of the board of directors. The company currently has approximately 114,000 Team Members employed at more than 400 facilities and offices in the United States and around the world. Through its Core Values, Code of Conduct and Team Member Bill of Rights, Tyson Foods strives to operate with integrity and trust and is committed to creating value for its shareholders, customers and Team Members. The company also strives to be faith-friendly, provide a safe work environment and serve as stewards of the animals, land and environment entrusted to it.
Forward-Looking Statements
Certain information contained in this press release may constitute forward-looking statements, such as statements relating to expected performance, new products, product innovation, and sustainability. These forward-looking statements are subject to a number of factors and uncertainties which could cause our actual results and experiences to differ materially from the anticipated results and expectations expressed in such forward-looking statements.  We caution readers not to place undue reliance on any forward-looking statements.  These statements speak only as of the date made, and we do not intend nor do we undertake any obligation to update these statements.
###
Contact: Gary Mickelson, 479-290-6111, gary.mickelson@tyson.com