Headline
Lift Up America, Cleveland Indians, Tyson Foods, Greater Cleveland Food Bank And Insurance Partners Agency Team Up To Host Food Drive At Progressive Field

Cleveland, Ohio -- Lift Up America and the Cleveland Indians are teaming up with Tyson Foods for the tenth consecutive year to help bring the gift of food to more than 30 Cleveland-area pantries and hot meal programs this Friday, September 16, at Progressive Field.
The Indians organization will host a press conference beginning at 12:00 p.m., along with employees from Tyson Foods, Lift Up America, Insurance Partners Agency, and the Greater Cleveland Food Bank followed by the food distribution scheduled to last until 1:00 p.m. Indians radio personality Jim Rosenhaus will emcee the event while presenting sponsor Insurance Partners will lead teams loading frozen product into community agencies' vehicles.  Matt Dolan, a representative from Cleveland Indians Ownership and Indians Alumni Paul Shuey will be in attendance.
"Hunger is a basic need that goes unmet for many families in Northeast Ohio. The Cleveland Indians are proud to host this food drive to combat hunger as part of our commitment to the region's communities," said Rebecca Kodysh, executive director of community impact for the Cleveland Indians.
Since 2004, Lift Up America has partnered with corporations, pro sports teams and non-profit organizations to help communities in times of need. "We are excited to work with the Indians, Tyson Foods and Insurance Partners Agency again this year. Through these efforts in fighting hunger, we hope that we can serve as an example for our youth and encourage the next generation to be Ambassadors of Compassion," said Eric Hannah, president of Lift Up America.
For the past 11 years, Tyson Foods has assisted Lift Up America in providing food in more than 20 cities to reduce domestic hunger in the United States.  Since 2000, Tyson Foods has donated more than 100 million pounds of protein in the United States.
"We want to make a difference in the lives of people struggling with food insecurity," said Matt Pakula, Tyson Foods' senior manager of corporate social responsibility. "To show our commitment to hunger relief, Tyson Foods has pledged $50 million in cash or in-kind donations over the next five years in the fight against hunger."
"Our communities and people are intertwined and depend on one another. Each of us has or will experience difficult times. We are blessed, grateful, and honored to be able to help others. We challenge every organization and person to do what they can." says George Dadas, president of Insurance Partners Agency, food drive champion and presenting sponsor since 2010.
September is Hunger Action Month and Greater Cleveland Food Bank is calling upon its communities to take action to fight domestic hunger. The Greater Cleveland Food Bank provides food and critical nonfood products to more than 800 programs that serve hungry men, women and children. A 2014 Feeding America study found that in Northeast Ohio, more than 574,000 people turn to hunger programs annually. The Greater Cleveland Food Bank is serving more people now than before the recession.
"We're grateful to the Cleveland Indians, Lift Up America, Tyson Foods, and Insurance Partners Agency again to provide this much needed protein that will help meet the abundant hunger needs of many in the Greater Cleveland community," said Kristin Warzocha, President & CEO for the Greater Cleveland Food Bank. "Thank you for your continued commitment to the Greater Cleveland Food Bank and feeding hungry people in Northeast Ohio. I know our member agencies are thrilled to receive this nutritious product!"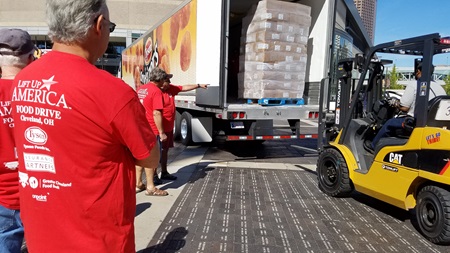 Lift Up America, founded in 2004, is a 501c3 non-profit organization that collaborates with corporations, professional and college sports teams and local nonprofit agencies to help our nation's less fortunate. For more information about Lift Up America, please visit www.LiftUpAmerica.org.  Lift Up America continues to focus on expanding its Ambassador of Compassion program across the U.S., including an active chapter in Cleveland. An interactive leadership program for youth, Ambassadors of Compassion helps transform junior-high and high-school aged youth into resilient, confident individuals motivated to embrace a strong work ethic and continue giving service in their communities. For more information and how to donate, please visit www.aoclife.org.
Tyson Foods, Inc.
Tyson Foods, Inc. (NYSE: TSN), with headquarters in Springdale, Arkansas, is one of the world's largest food companies with leading brands such as Tyson®, Jimmy Dean®, Hillshire Farm®, Sara Lee®,  Ball Park®, Wright®, Aidells® and State Fair®. It's a recognized market leader in chicken, beef and pork as well as prepared foods, including bacon, breakfast sausage, turkey, lunchmeat, hot dogs, pizza crusts and toppings, tortillas and desserts. The company supplies retail and foodservice customers throughout the United States and approximately 130 countries. Tyson Foods was founded in 1935 by John W. Tyson, whose family has continued to lead the business with his son, Don Tyson, guiding the company for many years and grandson, John H. Tyson, serving as the current chairman of the board of directors. The company currently has approximately 113,000 Team Members employed at more than 400 facilities and offices in the United States and around the world. Through its Core Values, Code of Conduct and Team Member Bill of Rights, Tyson Foods strives to operate with integrity and trust and is committed to creating value for its shareholders, customers and Team Members. The company also strives to be faith-friendly, provide a safe work environment and serve as stewards of the animals, land and environment entrusted to it.
Insurance Partners Agency is deeply committed to the communities that we all share. This leading, full service, independent insurance agency specializes in business and personal insurance, employee benefits, life insurance, and professional liability. Insurance Partners has earned its reputation for excellence by leveraging more than five decades of risk management experience to deliver keen insight, service, and solutions to clients' distinct needs. Organizations of all sizes and sectors benefit from their business insurance expertise combined with a distinct approach and access to a broad range of premier insurance carriers. Insurance Partners Agency was established in 1961, is based in and operates offices across Ohio and in Orlando, Florida serving clients locally and worldwide.  www.inspartners.com
The Greater Cleveland Food Bank is the largest hunger relief organization in Northeast Ohio having made possible 47.8 million meals in 2015 to hungry people in Cuyahoga, Ashtabula, Geauga, Lake, Ashland and Richland counties. The Food Bank's mission is to ensure that everyone in our communities has the nutritious food they need every day. We do this through both food distribution and SNAP outreach efforts. For more information please visit the website at www.GreaterClevelandFoodBank.org
###
FOR MORE INFORMATION CONTACT:
Derek Burleson, Tyson Foods, 479-290-6466, Derek.Burleson@Tyson.com
Karen Pozna, Greater Cleveland Food Bank, 216-738-2132 kpozna@clevelandfoodbank.org
Joel Hammond, Cleveland Indians, 216-420-4436, jhammond@indians.com
Cindi Lorenz, Insurance Partners Agency, 216-401-7152, clorenz@inspartners.com