Headline
Tom Hayes Named President of Tyson Foods; Donnie Smith to Continue as CEO
SPRINGDALE, Ark., June 13, 2016 – Tyson Foods, Inc. (NYSE: TSN) today announced that its board of directors has promoted Tom Hayes to the position of president. Formerly chief commercial officer of Tyson Foods, Hayes will work directly with Donnie Smith, who will continue as the company's chief executive officer.  
Prior to his role as chief commercial officer, Hayes was president of food service at Tyson Foods. Previously, Hayes served as chief supply chain officer for The Hillshire Brands Company, responsible for operations including procurement, manufacturing, food safety and quality, engineering, and logistics. In his new role, Hayes will lead Tyson Foods' transition reflecting the company's strategic focus on its hybrid model of branded prepared foods and fresh meats. Hayes will be based in Springdale, Ark.
Donnie Smith said, "Tom Hayes is an exceptional leader who's played a key role in creating a united company and in our continued development of our branded products. He has a distinguished track record of strategic, operational and commercial accomplishments, and I am pleased to have an opportunity to work closely with him as we continue to leverage our scale and nine core brands to drive industry-leading growth in attractive market segments."
"Under Donnie Smith's leadership, Tyson Foods has delivered excellent results for shareholders and experienced significant growth," said John Tyson, chairman of the board of directors. "As we look toward the future of our business and its next phase of growth, succession planning is the board's responsibility. We are focused on leaders with the right skills to help Tyson Foods capitalize on favorable market trends in the U.S. and abroad, continue improving our portfolio mix and margins, and drive innovation in our expanding range of branded products."
"I am honored to serve as president of Tyson Foods," said Mr. Hayes. "I appreciate the confidence the board has placed in me and look forward to working closely with Donnie and the board to help our company become a global leader in protein-centric branded foods."
Tom Hayes Biography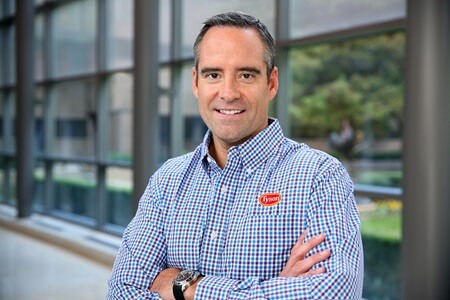 As chief commercial officer, Tom Hayes has been responsible for all North American sales for Tyson Foods, in addition to the foodservice prepared foods P&L. Earlier, he was president of Food Service at Tyson Foods. Previously, Mr. Hayes was chief supply chain officer at The Hillshire Brands Company, responsible for operations including procurement, manufacturing, food safety and quality, engineering and logistics. Previously, Hayes was senior vice president and chief supply chain officer for Sara Lee North America, responsible for supply chain activities in North American retail and foodservice. Prior to this role, Hayes was president of Sara Lee Foodservice.
Before joining Sara Lee in 2006, Hayes served as group vice president of US Foodservice, Inc., where he oversaw the turnaround needs of broad line distribution facilities in the Northeast. A 29-year veteran of the consumer products industry, Hayes previously held general management, sales and marketing roles at ConAgra Foods, The Fort James Corporation, Stella Foods and Kraft Foods.
Hayes has served on the board of directors of the International Foodservice Manufacturers Association (IFMA) and the executive committee of the board of directors of the North American Meat Institute (NAMI). He holds a Bachelor of Arts degree in Psychology from the University of New Hampshire and a Master of Business Administration degree from Northwestern University's Kellogg School of Management.
About Tyson Foods
Tyson Foods, Inc. (NYSE:TSN), with headquarters in Springdale, Arkansas, is one of the world's largest food companies with leading brands such as Tyson®, Jimmy Dean®, Hillshire Farm®, Sara Lee®, Ball Park®, Wright®, Aidells® and State Fair®. It is a recognized market leader in chicken, beef and pork as well as prepared foods, including bacon, breakfast sausage, turkey, lunchmeat, hot dogs, pizza crusts and toppings, tortillas and desserts. The company supplies retail and foodservice customers throughout the United States and approximately 130 countries. Tyson Foods was founded in 1935 by John W. Tyson, whose family has continued to lead the business with his son, Don Tyson, guiding the company for many years and grandson, John H. Tyson, serving as the current chairman of the board of directors. The company currently has approximately 113,000 Team Members employed at more than 400 facilities and offices in the United States and around the world. Through its Core Values, Code of Conduct and Team Member Bill of Rights, Tyson Foods strives to operate with integrity and trust and is committed to creating value for its shareholders, customers and Team Members. The company also strives to be faith-friendly, provide a safe work environment and serve as stewards of the animals, land and environment entrusted to it.
####
Media Contact:
Gary Mickelson
479-290-6111
Investor Contact:
Jon Kathol
479-290-4235