Headline
12 Year-Old Food Pantry Founder Recognized As A National "Hero"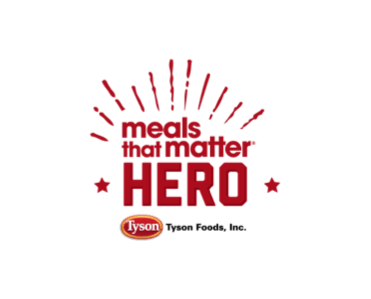 GOLDSBORO, N. C. – June 18, 2016 – Tyson Foods and the City of Goldsboro today publically recognized 12-year-old resident, Mackenzie "Kenzie" Hinson for her extraordinary efforts fighting hunger in the community. Hinson, founder and operator of Goldsboro's Make a Difference Food Pantry, is the second individual honored as a Tyson Foods Meals that Matter® Hero – part of the company's pledge to invest $50 million in cash and in-kind donations by 2020 to fight hunger, with a special focus on local initiatives.
"Running a food pantry is about more than just food," said Kenzie Hinson, the Tyson Foods Meals that Matter® Hero. "It's how you make people feel when they walk in the door. With this support from Tyson Foods, now I can make more people feel good, and I can't say 'thank you' enough for that."
In the short year since Hinson started the Make a Difference Food Pantry in a church fellowship hall, the operation has grown from serving 35 people to serving more than 1,000 people in Wayne, Sampson and Johnston counties each month. In addition to three monthly distributions at the pantry, Hinson also runs Backpack Buddy programs that provide afterschool meals to in-need students at four local schools, an effort she will extend to three additional schools in the fall.
"The impact the Make a Difference Food Pantry has had on this community in such a short time is incredible – regardless of the founder's age. But what makes Kenzie so remarkable is that, at 12 years old, she is more passionate, knowledgeable and driven than many people three times her age," said Sara Lilygren, executive vice president, corporate affairs at Tyson Foods, Inc. "People like Kenzie, who see opportunities rather than barriers, excite us. It's our hope that Tyson Foods' support of Kenzie will provide a lasting impact in the fight against hunger in this community for years to come."
Hinson was honored as a Tyson Foods Meals that Matter® Hero at the First Annual Father's Day Weekend BBQ Competition, a fundraiser for the Make a Difference Food Pantry. She was presented with a $20,000 grant from Tyson Foods to cover operating expenses, as well as a commercial freezer to help her maintain choices for her clients – an element of the pantry she prides herself on.
"Kenzie is an amazing young woman," said Larry Morris, senior manager, agency services, Food Bank of Central & Eastern North Carolina. "As our youngest Partner Agency operator, we're proud to be here today recognizing her hard work to establish the Make a Difference Food Pantry, which provides critical service to the entire community."
Hinson was further recognized by District 5 Council Member David Ham in a city proclamation establishing June 18 as Kenzie Hinson Meals that Matter Day in Goldsboro, North Carolina. In attendance were Representative John Bell, Pitmaster Ed Mitchell and many of Hinson's supporters and volunteers.
About Tyson Foods' Meals that Matter® Initiative
After donating 100 million pounds of food over 15 years, Tyson Foods renewed its commitment in the fight against hunger in 2015 by pledging $50 million in cash and in-kind donations by 2020. This commitment focuses specifically on innovative initiatives at the local level.
About Tyson Foods
Tyson Foods, Inc. (NYSE: TSN), with headquarters in Springdale, Arkansas, is one of the world's largest food companies with leading brands such as Tyson®, Jimmy Dean®, Hillshire Farm®, Sara Lee®, Ball Park®, Wright®, Aidells® and State Fair®. It's a recognized market leader in chicken, beef and pork as well as prepared foods, including bacon, breakfast sausage, turkey, lunchmeat, hot dogs, pizza crusts and toppings, tortillas and desserts. The company supplies retail and foodservice customers throughout the United States and approximately 130 countries. Tyson Foods was founded in 1935 by John W. Tyson, whose family has continued to lead the business with his son, Don Tyson, guiding the company for many years and grandson, John H. Tyson, serving as the current chairman of the board of directors. The company currently has approximately 113,000 Team Members employed at more than 400 facilities and offices in the United States and around the world. Through its Core Values, Code of Conduct and Team Member Bill of Rights, Tyson Foods strives to operate with integrity and trust and is committed to creating value for its shareholders, customers and Team Members. The company also strives to be faith-friendly, provide a safe work environment and serve as stewards of the animals, land and environment entrusted to it.
####
Media Contact:
Derek Burleson
Tyson Foods, Public Relations
479-651-0275