Headline
Meals on Wheels Texoma Receives a $100,000 Donation from Tyson Foods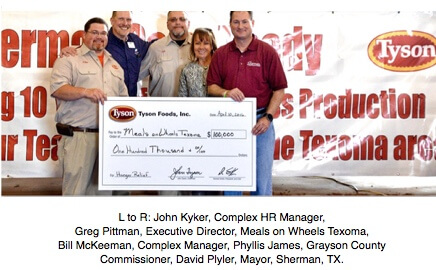 Springdale, Ark. – April 11, 2016 – Meals on Wheels Texoma received a $100,000 grant from Tyson Foods, Inc. to go toward the construction of the agency's central kitchen. Tyson Foods also donated a truckload of chicken to help fight hunger in North Texas.
Last year, in an effort to increase capacity while reducing overall operating costs, Meals on Wheels Texoma began planning a central kitchen to accommodate the 3,400-square-mile area that is served by the organization. The new kitchen was needed in order to provide a modern facility and strategic location to more conveniently prepare and distribute food to the three counties served by Meals on Wheels Texoma.
"It is with a full and gracious heart that I want to thank Tyson Foods for the unprecedented level of support they have provided us this year," said Greg Pittman, executive director of Meals on Wheels Texoma. "These donations will provide critical support to a broad spectrum of the North Texas population, feeding folks from soup kitchens to food pantries, homeless shelters to senior citizens, after school programs to food banks, and this new kitchen will sustain these organizations for years to come."
"Most of us don't realize how difficult it is for some people to simply leave their homes to get the food they need," said Annetta Tirey, director of corporate social responsibility for Tyson Foods. "This donation will not only result in a greater number of clients being served, but it will also result in food being distributed more efficiently by consolidating nine kitchens into one."
Meals on Wheels Texoma served more than 380,000 meals to 3,000 area senior citizens in 2015.
About Meals on Wheels Texoma
Meals on Wheels Texoma is 501(c)(3) non-profit organization serving elderly and disabled residents of Cooke, Fannin and Grayson Counties in North Texas. Our nutrition programs allow seniors to remain independent, living in their own homes and avoiding more costly alternatives such as nursing home placements, hospitalizations, and unnecessary trips to the emergency room.  The Meals on Wheels model ensures that these homebound seniors are home but not alone.  Over 700 volunteers help deliver meals along with a friendly face and a few minutes of visitation.  This wellness check translates into greater peace of mind for the families and loved ones of those we serve.  
About Tyson Foods
Tyson Foods, Inc. (NYSE:TSN), with headquarters in Springdale, Arkansas, is one of the world's largest food companies with leading brands such as Tyson®, Jimmy Dean®, Hillshire Farm®, Sara Lee®, Ball Park®, Wright®, Aidells® and State Fair®. It's a recognized market leader in chicken, beef and pork as well as prepared foods, including bacon, breakfast sausage, turkey, lunchmeat, hot dogs, pizza crusts and toppings, tortillas and desserts. The company supplies retail and foodservice customers throughout the United States and approximately 130 countries. Tyson Foods was founded in 1935 by John W. Tyson, whose family has continued to lead the business with his son, Don Tyson, guiding the company for many years and grandson, John H. Tyson, serving as the current chairman of the board of directors. The company currently has approximately 113,000 Team Members employed at more than 400 facilities and offices in the United States and around the world. Through its Core Values, Code of Conduct and Team Member Bill of Rights, Tyson Foods strives to operate with integrity and trust and is committed to creating value for its shareholders, customers and Team Members. The company also strives to be faith-friendly, provide a safe work environment and serve as stewards of the animals, land and environment entrusted to it.
###
Contact: Derek Burleson, 479-290-6466, derek.burleson@tyson.com