Headline
Tyson Foods Names Marty Bryan Senior Vice President Operations Finance and Accounting
Springdale, Ark. – March 30, 2016 – Marty Bryan has been promoted to senior vice president, operations finance and accounting for prepared foods, commercial sales and innovation for Tyson Foods, Inc., company officials announced today.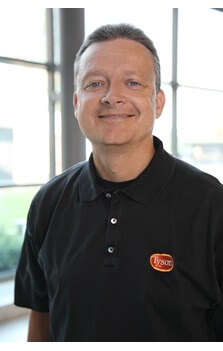 In his new role, Bryan will continue to provide business and financial leadership to the retail branded and foodservice prepared foods teams, as well as the commercial sales and innovation teams. Since joining Tyson Foods in 1990, Bryan has held a variety of roles, including vice president of retail brands and growth finance and accounting, vice president of finance and vice president poultry/prepared foods operations accounting, where he oversaw sales and plant operations from the accounting perspective in a variety of the company's divisions.
"For nearly 30 years, Marty has served Tyson Foods with the utmost excellence and leadership in supporting the company's most vital functions for our business operations and sustained development," said Dennis Leatherby, executive vice president and chief financial officer. "We are glad to have his expertise as he takes on this expanded leadership role."
Bryan attended the University of Arkansas in Fayetteville, where he earned a bachelor's degree in accounting in 1986.
About Tyson Foods
Tyson Foods, Inc. (NYSE:TSN), with headquarters in Springdale, Arkansas, is one of the world's largest food companies with leading brands such as Tyson®, Jimmy Dean®, Hillshire Farm®, Sara Lee®, Ball Park®, Wright®, Aidells® and State Fair®. It's a recognized market leader in chicken, beef and pork as well as prepared foods, including bacon, breakfast sausage, turkey, lunchmeat, hot dogs, pizza crusts and toppings, tortillas and desserts. The company supplies retail and foodservice customers throughout the United States and approximately 130 countries. Tyson Foods was founded in 1935 by John W. Tyson, whose family has continued to lead the business with his son, Don Tyson, guiding the company for many years and grandson, John H. Tyson, serving as the current chairman of the board of directors. The company currently has approximately 113,000 Team Members employed at more than 400 facilities and offices in the United States and around the world. Through its Core Values, Code of Conduct and Team Member Bill of Rights, Tyson Foods strives to operate with integrity and trust and is committed to creating value for its shareholders, customers and Team Members. The company also strives to be faith-friendly, provide a safe work environment and serve as stewards of the animals, land and environment entrusted to it.
####
Contact: Derek Burleson, 479-290-6466, derek.burleson@tyson.com