Headline
Tyson Foods and Champions for Kids Donate Truckload of Protein to Delta Network Food Bank
PINE BLUFF, Ark., March 1, 2016 – Tyson Foods, Inc. and Champions for Kids donated a truckload of chicken today to the Delta Network Food Bank in Pine Bluff, Arkansas.
The donation is one of two events in fulfillment of the 3rd annual "Be a Hunger Hero" campaign, which encourages shoppers to purchase a 5-pound bag of Tyson® Fully Cooked Chicken Nuggets at Sam's Club to help feed a child in need. Also Tuesday, the food bank distributed 10-pound bags of frozen chicken to food-insecure residents.
Delta Network Food Bank provides food assistance to residents in eight counties in the Arkansas Delta Region. This region has the highest level of poverty in the state.
"The phone call advising us that Tyson Foods had chosen the Delta Network Food Bank to receive a truckload of chicken came at the most opportune time. During the winter months, beginning with Thanksgiving, our inventory in the warehouse was really reduced because of the demand for food from the families we serve," Director Jacqueline Ross said. "We are so grateful to Tyson Foods for providing this food to families that are experiencing food insecurity in the Arkansas Delta Region. Thanks for helping us to see our motto in action: 'Together We Can Make a Difference.'"
Meat and poultry are nutrient dense foods and, according to health experts, can be especially helpful to people who need more protein including children and seniors. According to food banks nationwide, meat is the most requested and least available food item.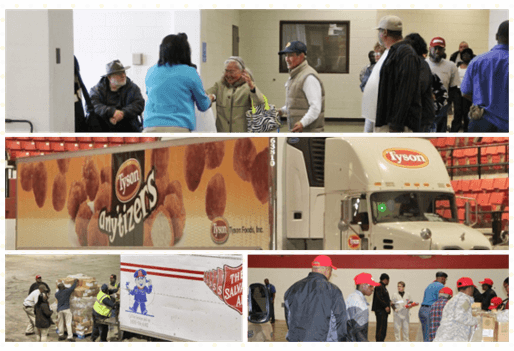 "We are so proud to partner with Tyson Foods, because they've proven time and time again they are committed to fighting child hunger. Together, we understand that before children can succeed, we have to meet their basic needs. We've seen the effect that a donation like this can make in a community. It means children are more ready to learn, and they grow up more determined to make the world better in ways we can't imagine," said Adelaide Schaeffer, CEO of Champions for Kids.
Tyson Foods has been an active participant in the fight against hunger for a decade, donating more than 100 million pounds of protein. The company partners with Share Our Strength, Lift Up America, Feeding America, and the League of United Latin American Citizens to raise awareness and help feed the hungry across the nation. The company's current "KNOW Hunger" campaign is focused on helping more people understand and join the effort to eliminate hunger in America. Last year, Tyson Foods pledged $50 million in cash or in-kind donations over the next five years in the continued fight against hunger, with a special focus on innovative initiatives.
"With Arkansas' food-insecurity rate at 19.7 percent, Tyson Foods is honored to partner with Champions for Kids to provide much needed protein to the Delta Network Food Bank and address some of the area's immediate need," said Mikki DeWitt, Tyson Foods' marketing manager.
To learn more about Champions for Kids, visit www.championsforkids.org, and to learn more about Delta Network Food Bank, visit www.deltaregionalnetwork.org.
###
About Tyson Foods
Tyson Foods, Inc. (NYSE: TSN), with headquarters in Springdale, Arkansas, is one of the world's largest food companies with leading brands such as Tyson®, Jimmy Dean®, Hillshire Farm®, Sara Lee®,  Ball Park®, Wright®, Aidells® and State Fair®. It's a recognized market leader in chicken, beef and pork as well as prepared foods, including bacon, breakfast sausage, turkey, lunchmeat, hot dogs, pizza crusts and toppings, tortillas and desserts. The company supplies retail and foodservice customers throughout the United States and approximately 130 countries. Tyson Foods was founded in 1935 by John W. Tyson, whose family has continued to lead the business with his son, Don Tyson, guiding the company for many years and grandson, John H. Tyson, serving as the current chairman of the board of directors. The company currently has approximately 113,000 Team Members employed at more than 400 facilities and offices in the United States and around the world. Through its Core Values, Code of Conduct and Team Member Bill of Rights, Tyson Foods strives to operate with integrity and trust and is committed to creating value for its shareholders, customers and Team Members. The company also strives to be faith-friendly, provide a safe work environment and serve as stewards of the animals, land and environment entrusted to it.
About Champions for Kids
Champions for Kids makes it simple to give kids in your community the resources they need to thrive. Since 2004, Champions for Kids has served more than 5.6 million children across all 50 states through in-store donation campaigns, service projects and community events. For more information, please visit www.championsforkids.org.
About Delta Network Food Bank
Delta Network Food Bank is a 501-c3 nonprofit food bank serving selected counties in the Arkansas Delta Region by providing hunger relief to low income families, the elderly and the homeless including homeless veterans through its corporate and partner pantries, soup kitchens, and countywide hunger relief food distributions. For more information concerning Delta Network Food Bank and its organizational network, visit www.deltaregionalnetwork.org.
Contacts:     
Derek Burleson, Tyson Foods, 479-290-6466 or Derek.Burleson@TysonFoods.com
Jim Evans, Champions for Kids, 479-530-6292 or Jim@ChampionsforKids.org
Jacqueline Ross, Delta Network Food Bank, 870-536-2424 or info@deltaregionalnetwork.org