Headline
Tyson Foods Names Dan Zelenka Vice President Laboratory Services
Springdale, Ark. – Feb. 3 – Dan Zelenka has been promoted to vice president of laboratory services for Tyson Foods, Inc., replacing Neal Apple who retired in mid-December.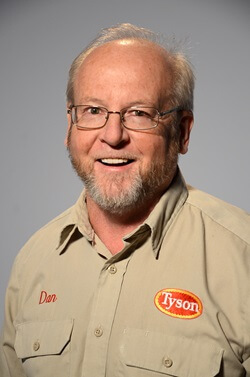 Zelenka began his career with Tyson Foods in 1986 as a geneticist and has made significant contributions to the company's use of statistical process control in operations, food safety and quality management programs. In his new role, Zelenka will continue to lead the statistics and experimental design team, in addition to his new laboratory services responsibilities.
Laboratory Services is a network of 18 laboratories, providing Tyson Foods and its customers with research, analytical, chemistry, microbiology and serology services. The group performs more than 280,000 tests per month and ensures that from farm to table, food safety and quality are a top priority.
"Dan's extensive knowledge of our plants, people and processes make him the right person to manage the dynamic team involved in our world-class laboratories," said Rick Roop, senior vice president, food safety and quality assurance for Tyson Foods."
Zelenka earned a bachelor's in agriculture at the University of Illinois, a master's in poultry science from Virginia Tech, and a doctorate in genetics, also from Virginia Tech.
About Tyson Foods Tyson Foods, Inc. (NYSE:TSN), with headquarters in Springdale, Arkansas, is one of the world's largest food companies with leading brands such as Tyson®, Jimmy Dean®, Hillshire Farm®, Sara Lee®, Ball Park®, Wright®, Aidells® and State Fair®. It's a recognized market leader in chicken, beef and pork as well as prepared foods, including bacon, breakfast sausage, turkey, lunchmeat, hot dogs, pizza crusts and toppings, tortillas and desserts. The company supplies retail and foodservice customers throughout the United States and approximately 130 countries. Tyson Foods was founded in 1935 by John W. Tyson, whose family has continued to lead the business with his son, Don Tyson, guiding the company for many years and grandson, John H. Tyson, serving as the current chairman of the board of directors. The company currently has approximately 113,000 Team Members employed at more than 400 facilities and offices in the United States and around the world. Through its Core Values, Code of Conduct and Team Member Bill of Rights, Tyson Foods strives to operate with integrity and trust and is committed to creating value for its shareholders, customers and Team Members. The company also strives to be faith-friendly, provide a safe work environment and serve as stewards of the animals, land and environment entrusted to it.
###
Contact: Derek Burleson, 479-290-6466, derek.burleson@tyson.com