Headline
Tyson Foods Creates Venture Fund to Fuel the Future of Food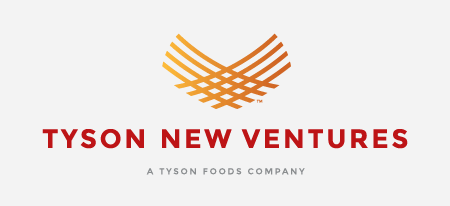 Springdale, Ark. – December 5, 2016 – As part of its commitment to innovation and growth, Tyson Foods, Inc. (NYSE: TSN) has launched a venture capital fund focused on investing in companies developing breakthrough technologies, business models and products to sustainably feed a growing world population.
Tyson will make available $150 million to the fund, which has been named Tyson New Ventures LLC, to complement the company's continuing investment in innovation in its core fresh meats, poultry and prepared foods businesses.
The fund will concentrate on three areas in the foods space: commercializing delicious, safe and affordable alternative proteins; tackling food insecurity and food loss through market making and other commercial models; and tapping the internet of food to promote more precise and productive resource application, safety, and consumer empowerment in the food chain. Tyson New Ventures will invest in these entrepreneurial food businesses and leverage Tyson Foods' expertise to boost their development. The first investment involves Tyson Foods' previously-announced five percent ownership stake in plant-based protein producer Beyond Meat.
"We intend to collaborate with promising food entrepreneurs who are pioneering new products and technology that are making meaningful changes and improvement to food systems," said Monica McGurk, executive vice president of strategy and new ventures and president of foodservice for Tyson Foods. "We believe we can accelerate the growth of startups through our capabilities in such areas as food and culinary research and development, sourcing, insights, customer relationships and distribution.  By doing so, we hope to materially advance the state of the U.S. and global food system."
Tyson New Ventures will be based in Chicago and led by Mary Kay James, who has been named vice president and general manager. She previously served as managing director of DuPont Ventures, was chairperson of the National Venture Capital Association, Corporate Venture Group, and an advisory board member to Global Corporate Venturing.
James and her team will seek startups that complement Tyson Foods' existing business and product development efforts. They will focus on the areas of alternative proteins, elimination of food waste and leveraging innovative trends in technology.
"This fund is about broadening our exposure to innovative, new forms of protein and ways of producing food, while remaining focused on our core fresh meats, poultry and prepared foods businesses, which are also experiencing tremendous consumer demand and growth," McGurk said.
For more information about Tyson New Ventures, go to:  www.tysonfoods.com/TysonNewVentures
About Tyson Foods
Tyson Foods, Inc. (NYSE: TSN), with headquarters in Springdale, Arkansas, is one of the world's largest food companies with leading brands such as Tyson®, Jimmy Dean®, Hillshire Farm®, Sara Lee®, Ball Park®, Wright®, Aidells® and State Fair®. It's a recognized market leader in chicken, beef and pork as well as prepared foods, including bacon, breakfast sausage, turkey, lunchmeat, hot dogs, pizza crusts and toppings, tortillas and desserts. The company supplies retail and foodservice customers throughout the United States and approximately 130 countries. Tyson Foods was founded in 1935 by John W. Tyson, whose family has continued to lead the business with his son, Don Tyson, guiding the company for many years and grandson, John H. Tyson, serving as the current chairman of the board of directors. The company currently has approximately 114,000 Team Members employed at more than 400 facilities and offices in the United States and around the world. Through its Core Values, Code of Conduct and Team Member Bill of Rights, Tyson Foods strives to operate with integrity and trust and is committed to creating value for its shareholders, customers and Team Members. The company also strives to be faith-friendly, provide a safe work environment and serve as stewards of the animals, land and environment entrusted to it.
Forward Looking Statements This release includes forward-looking statements as well as historical information. These forward-looking statements are made as of the date of the release and include statements relating to potential investments. Actual results may vary. Additional information regarding risks which may affect our results is included in Item 1.A. "Risk Factors" on our Form 10-K for the period ended October 1, 2016. Tyson Foods does not assume any obligation to update the information contained in this communication (whether as a result of new information, future events or otherwise), except as required by applicable law.
####
Contact: Gary Mickelson, 479-290-6111, gary.mickelson@tyson.com