Headline
Founder Of Meal Delivery Service For Chicago Cancer Patients Named A National 'Hero'
Culinary Care founder Courtney White honored as a Tyson Foods 'Meals That Matter Hero'
as part of the company's fight against hunger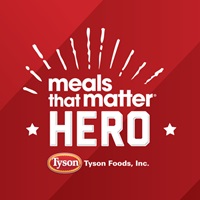 CHICAGO – Nov. 29, 2016 – Tyson Foods, Inc. has recognized Courtney White, founder and operator of nonprofit organization Culinary Care, for her outstanding efforts to provide nutritious meals to cancer patients and their families. White, a 27-year-old Chicago native, is the third individual honored as a Tyson Foods Meals that Matter® Hero – part of the company's pledge to invest $50 million in cash and in-kind donations by 2020 to fight hunger, with a special focus on local initiatives.
White founded Culinary Care in 2013 at the age of 23. Since then, she and the organization's dedicated supporters have delivered more than 4,800 ready-to-eat meals to cancer patients and their families – all part of their effort to fight malnutrition, which is the direct cause of one in five cancer deaths.
"When my father was undergoing cancer treatments, people brought meals to my family every day for weeks. Those meals were more than just food – they were a chance for my family to be together and enjoy each other," said White, who lost her father to lung cancer in 2006. "The mission of Culinary Care is to provide that support to families who may not otherwise receive it, and to give them one less thing to worry about during this tremendously difficult time."
Through a network of partnerships with 20 area restaurants and six area hospitals, cancer patients can order a family meal much in the same way they would order a pizza – except the meal is free of charge. After being referred to Culinary Care by an employee of a partner hospital, patients may order meals from menus specially developed for the specific dietary needs of someone undergoing cancer treatment. The Culinary Care team then delivers the meal directly to the patient at the hospital during or after their treatment.
"The meals provided by Culinary Care are truly meals that matter. Courtney's tireless work and personal dedication to helping others has made a real impact in the lives of so many families," said Sara Lilygren, executive vice president, corporate affairs at Tyson Foods, Inc. "Courtney exemplifies what it means to be a Meals that Matter Hero, and Tyson Foods is honored to support Culinary Care as it expands to nourish even more families."
To help Culinary Care expand its efforts, Tyson awarded the nonprofit a $60,000 grant to secure a full-time employee. This support will ensure that Culinary Care continues to reach patients and their families.
"It's just been a real blessing for our family," said Tanya Villarreal, one of Culinary Care's clients. "Just knowing, as a mom, that when I am at chemo, my family and I are going to have a good meal. It's been something special for us and for many other families."
About Tyson Foods' Meals That Matter Initiative
After donating 100 million pounds of food over 15 years, Tyson Foods renewed its commitment in the fight against hunger in 2015 by pledging $50 million in cash and in-kind donations by 2020. This commitment focuses specifically on innovative initiatives at the local level. In 2016, Tyson Foods donated $12.5 million in cash and in-kind donations for hunger relief.
About Tyson Foods
Tyson Foods, Inc. (NYSE: TSN), with headquarters in Springdale, Arkansas, is one of the world's largest food companies with leading brands such as Tyson®, Jimmy Dean®, Hillshire Farm®, Sara Lee®, Ball Park®, Wright®, Aidells® and State Fair®. It's a recognized market leader in chicken, beef and pork as well as prepared foods, including bacon, breakfast sausage, turkey, lunchmeat, hot dogs, pizza crusts and toppings, tortillas and desserts. The company supplies retail and foodservice customers throughout the United States and approximately 130 countries. Tyson Foods was founded in 1935 by John W. Tyson, whose family has continued to lead the business with his son, Don Tyson, guiding the company for many years and grandson, John H. Tyson, serving as the current chairman of the board of directors. The company currently has approximately 113,000 Team Members employed at more than 400 facilities and offices in the United States and around the world. Through its Core Values, Code of Conduct and Team Member Bill of Rights, Tyson Foods strives to operate with integrity and trust and is committed to creating value for its shareholders, customers and Team Members. The company also strives to be faith-friendly, provide a safe work environment and serve as stewards of the animals, land and environment entrusted to it.
####
Media Contact:
Derek Burleson
Tyson Foods, Public Relations
479-290-6466