Headline
Tyson Foods Celebrates Donation Milestone, $50 Million Pledge in Fight Against Hunger with Donation
Rogers, Ark. – Sept. 23, 2015 – In honor of donating 100 million pounds of protein since 2000 and its renewed commitment to ending hunger, Tyson Foods, Inc. donated a truckload of chicken today to the Northwest Arkansas Food Bank.
The food bank, which serves the region that Tyson Foods has called home since 1935, will distribute the donated food to its network of agencies servicing the four-county area.
"With the generous support of corporations like Tyson Foods, it makes it possible for the Northwest Arkansas Food Bank to feed the hungry and it makes Northwest Arkansas a great place to live," said Marge Wolf, president/CEO of Northwest Arkansas Food Bank.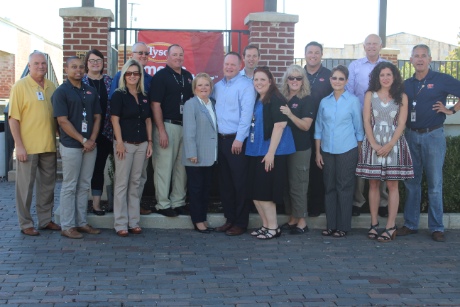 Meat and poultry are nutrient-dense foods, according to health experts, and can be especially helpful to people who need more protein, including growing children, pregnant women, the elderly, and anyone undergoing severe stress, disease or disability. According to food banks nationwide, meat is among the most requested and least available food.
Tyson Foods' "KNOW Hunger" campaign is focused on helping more people understand and join the effort to eliminate hunger in America. The company partners with Feeding America, Share Our Strength and Lift Up America to raise awareness and help feed the hungry across the nation. Since 2000, Tyson Foods has donated more than 100 million pounds of protein in the United States.
"As the leading recipient of Tyson Foods' protein donations over the past 15 years, we're incredibly grateful to the company for helping us provide this much-needed nutritious food to families in need," said Matt Knott, president of Feeding America. "We not only congratulate them on this milestone, but we sincerely appreciate Tyson's ongoing commitment to teaming up with our nationwide network of food banks to help solve hunger."
Earlier this month, Tyson Foods announced its renewed commitment to hunger relief by pledging $50 million in cash and in-kind donations over the next five years in the fight against hunger, with a special focus on innovative initiatives at the local level.
"We know we can't solve hunger alone," said Donnie Smith, president and CEO of Tyson Foods. "It's the organizations and heroes in communities all over the country who are doing the real work. We're proud to support those who are fighting hunger across the country."
To learn more about Northwest Arkansas Food Bank and its hunger-relief efforts, visit http://www.nwafoodbank.org/.
###
About Tyson Foods 
Tyson Foods, Inc. (NYSE: TSN), with headquarters in Springdale, Arkansas, is one of the world's largest food companies with leading brands such as Tyson®, Jimmy Dean®, Hillshire Farm®, Sara Lee®,  Ball Park®, Wright®, Aidells® and State Fair®. It's a recognized market leader in chicken, beef and pork as well as prepared foods, including bacon, breakfast sausage, turkey, lunchmeat, hot dogs, pizza crusts and toppings, tortillas and desserts. The company supplies retail and foodservice customers throughout the United States and approximately 130 countries. Tyson Foods was founded in 1935 by John W. Tyson, whose family has continued to lead the business with his son, Don Tyson, guiding the company for many years and grandson, John H. Tyson, serving as the current chairman of the board of directors. The company currently has approximately 113,000 Team Members employed at more than 400 facilities and offices in the United States and around the world. Through its Core Values, Code of Conduct and Team Member Bill of Rights, Tyson Foods strives to operate with integrity and trust and is committed to creating value for its shareholders, customers and Team Members. The company also strives to be faith-friendly, provide a safe work environment and serve as stewards of the animals, land and environment entrusted to it.
About Northwest Arkansas Food Bank 
The Northwest Arkansas Food Bank has been serving NWA since 1988; the Food Bank has grown to serve citizens of Benton, Carroll, Madison & Washington counties.  It is the mission of the Northwest Arkansas Food Bank to "Nourish NWA Communities by Feeding Hungry People." The NWA Food Bank is able to meet the growing needs of residents through our network of agencies, local partners and community support. In 2014, the NWA Food Bank provided 7.2 million pounds of food to those that face the issue of hunger.
About Feeding America
Feeding America is the nationwide network of 200 food banks that leads the fight against hunger in the United States. Together, we provide food to more than 46 million people through 60,000 food pantries and meal programs in communities across America. Feeding America also supports programs that improve food security among the people we serve; educates the public about the problem of hunger; and advocates for legislation that protects people from going hungry. Individuals, charities, businesses and government all have a role in ending hunger. Donate. Volunteer. Advocate. Educate. Together we can solve hunger. Visit www.feedingamerica.org, find us on Facebook or follow us on Twitter.
Contact:
Krista Cupp – 479-290-5195 or Krista.Cupp@Tyson.com