Headline
Tyson Foods Donates Truckload of Chicken to Community Food Bank
Fresno, Calif. – Aug. 18, 2015 – Tyson Foods, Inc. donated a truckload of chicken today to Community Food Bank to help eliminate hunger in the Central Valley area.
The donated product will be distributed to the food-insecure population in the food bank's five-county service area, which it has served for the past 23 years. With its network of over 200 nonprofit agencies, the food bank distributes more than 38 million pounds of food each year.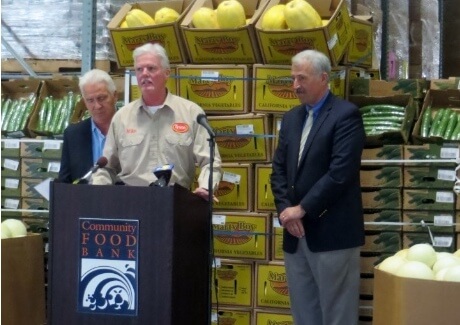 (L to R, U.S. Rep. Jim Costa (D-CA), Tyson Foods' Mike Sanders, Community Food Bank CEO Andy Souza)
"We are grateful for Tyson Foods' support. We rely on our community partners to assist in the provision of food and hope to local families who struggle with hunger," Community Food Bank CEO Andy Souza said. "We truly appreciate this gift of fresh poultry and the opportunity it gives to make an even greater difference in many lives."
Meat and poultry are nutrient dense foods, according to health experts, and can be especially helpful to people who need more protein, including growing children, pregnant women, the elderly, and anyone undergoing severe stress, disease or disability. According to food banks nationwide, meat is the most requested and least available food. Since 2000, Tyson Foods has donated more than 99 million pounds of protein in the United States.
"Of the more than 280,000 people fed each month by Community Food Bank, 90,000 are children," said Nora Venegas, director of federal government relations for Tyson Foods. "Food insecurity affects all age groups and all communities. It's our goal to help alleviate this need by providing protein to those in need and raising awareness about how important protein is in a diet."
Tyson Foods' "KNOW Hunger" campaign is focused on helping more people understand and join the effort to eliminate hunger in America. The company partners with Feeding America, Share Our Strength and Lift Up America to raise awareness and help feed the hungry across the nation.
U.S. Rep. Jim Costa (D-CA) said the donation of protein means a lot to the communities throughout the San Joaquin Valley.
"Having healthy, nutritious food readily available for distribution is essential for Community Food Bank to continue serving families in need, and I thank Tyson Foods for their generous donation of 40,000 pounds in poultry products," U.S. Rep. Costa said. "No child, woman, or man should ever be without food, and I commend Community Food Bank and Tyson Foods for their efforts in working to eliminate hunger."
To learn more about Community Food Bank and its hunger-relief efforts, visit http://www.ccfoodbank.org
###
About Tyson Foods 
Tyson Foods, Inc. (NYSE: TSN), with headquarters in Springdale, Arkansas, is one of the world's largest food companies with leading brands such as Tyson®, Jimmy Dean®, Hillshire Farm®, Sara Lee®,  Ball Park®, Wright®, Aidells® and State Fair®. It's a recognized market leader in chicken, beef and pork as well as prepared foods, including bacon, breakfast sausage, turkey, lunchmeat, hot dogs, pizza crusts and toppings, tortillas and desserts. The company supplies retail and foodservice customers throughout the United States and approximately 130 countries. Tyson Foods was founded in 1935 by John W. Tyson, whose family has continued to lead the business with his son, Don Tyson, guiding the company for many years and grandson, John H. Tyson, serving as the current chairman of the board of directors. The company currently has approximately 113,000 Team Members employed at more than 400 facilities and offices in the United States and around the world. Through its Core Values, Code of Conduct and Team Member Bill of Rights, Tyson Foods strives to operate with integrity and trust and is committed to creating value for its shareholders, customers and Team Members. The company also strives to be faith-friendly, provide a safe work environment and serve as stewards of the animals, land and environment entrusted to it.
About Community Food Bank
Community Food Bank is the region's largest community-based, non-profit agency dedicated solely to ending hunger in the Central Valley. Community Food Bank has experienced tremendous growth since its beginning in 1992, and now serves at the center of a vast network of more than 200 non-profit agencies, including schools, churches, community kitchens and more, throughout Fresno, Madera, Kings, Kern and Tulare Counties. Community Food Bank operates several food distribution and outreach programs, which combined, distribute more than 38 million pounds of food to families in need each year and serve more than 280,000 people monthly – of whom 90,000 are children.
Contact:      
Krista Cupp – 479-290-5195 or Krista.Cupp@Tyson.com