Headline
Tyson Foods and The Nature Conservancy Work to Conserve Area Waterways
SPRINGDALE, Arkansas – July 15, 2015 -- Conserving the waterways of northwest Arkansas and southwest Missouri is the focus of a new collaboration between The Nature Conservancy and Tyson Foods, Inc.
The conservation organization and the company announced plans for an initiative that includes community-based conservation activities and funding for projects designed to help protect rivers and streams in the region. The announcement was made today as Tyson Foods team members and Nature Conservancy volunteers picked up trash and debris along Spring Creek in Springdale, Arkansas.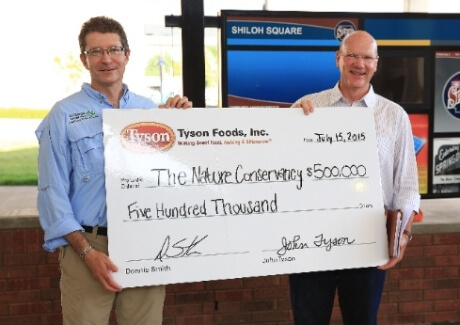 (L to R,  Scott Simon, state director for the Arkansas Chapter of the Nature Conservancy, Mike Roetzel, Tyson Foods' group vice president of operation services)
Tyson Foods presented a $500,000 check at the event that will go toward conserving water quality in streams and lakes throughout northwest Arkansas and southwest Missouri. The money will help fund stream restoration, reforestation, erosion prevention, unpaved road improvements, watershed research and community engagement in conservation projects throughout the area, including the Kings, Elk and Buffalo Rivers.
Scott Simon, state director for the Arkansas Chapter of the Nature Conservancy, expressed thanks for the donation, stating "We are very appreciative that Tyson wants to work with The Nature Conservancy.  They have been supporting The Nature Conservancy and the conservation work of other organizations for decades. We are particularly excited they have developed this program to fund water quality improvement projects and are looking forward to working together with their employees on some of the most beloved rivers of northwest Arkansas and southwest Missouri."
Northwest Arkansas and southwest Missouri are home to more 14,000 Tyson Foods team members, eight processing plants, and more than 800 contract farmers. The company also owns seven pre-treatment wastewater facilities in the region.
"Our footprint in this area is significant and along with that comes an important responsibility to conserve our precious natural resources," said Mike Roetzel, Springdale-native and Tyson Foods' group vice president of operation services. "This is just one way we hope to protect the quality of life we experience in this beautiful part of the country."
Tyson Foods has focused on ways to conserve and reuse water in its processing plants over the years. The company formed a Water Council with help from the University of Arkansas in 2013 to understand the current landscape for water management for global operations and to create short-term and long-term plans for water management across the company. Since the council's creation, Tyson Foods has developed water usage and management metrics and continues to work on other tools to conserve water necessary to ensure food safety.
Media contact: Krista Cupp 479-290-5195, krista.cupp@tyson.com.
###
About Tyson Foods 
Tyson Foods, Inc. (NYSE: TSN), with headquarters in Springdale, Arkansas, is one of the world's largest food companies with leading brands such as Tyson®, Jimmy Dean®, Hillshire Farm®, Sara Lee®,  Ball Park®, Wright®, Aidells® and State Fair®. It's a recognized market leader in chicken, beef and pork as well as prepared foods, including bacon, breakfast sausage, turkey, lunchmeat, hot dogs, pizza crusts and toppings, tortillas and desserts. The company supplies retail and foodservice customers throughout the United States and approximately 130 countries. Tyson Foods was founded in 1935 by John W. Tyson, whose family has continued to lead the business with his son, Don Tyson, guiding the company for many years and grandson, John H. Tyson, serving as the current chairman of the board of directors. The company currently has approximately 113,000 Team Members employed at more than 400 facilities and offices in the United States and around the world. Through its Core Values, Code of Conduct and Team Member Bill of Rights, Tyson Foods strives to operate with integrity and trust and is committed to creating value for its shareholders, customers and Team Members. The company also strives to be faith-friendly, provide a safe work environment and serve as stewards of the animals, land and environment entrusted to it.