Headline
Tyson Foods Gives $50,000 Boost to Spanish American Civic Association for Meal Program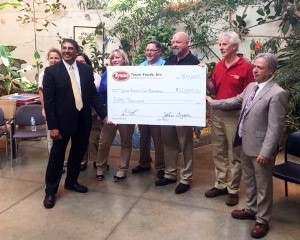 $50,000 donation to the Spanish American Civic Association in Lancaster County, PA to help expand their meals program.
New Holland, Pa.—May 12, 2015—The Lancaster County Spanish American Civic Association (SACA) received a $50,000 boost from Tyson Foods, Inc. that will go toward the expansion of the neighborhood meal program.
The donation was announced at an event this evening that marked the first evening meal served by SACA. Tyson Foods will also match private donations up to $25,000 to SACA's neighborhood meal program.
"While Lancaster is a prosperous community, the real issue of poverty and hunger is often overlooked," said Carlos Groupera, President and CEO of SACA. "SACA feels that it is incumbent on the community to look after the issue of hunger and to seek partners such as Tyson Foods to make sure that individuals who would not eat otherwise are always able to have access to a hot meal at this community center. We are grateful for the generosity of Tyson Foods in allowing us to expand our meals program and also mindful and appreciative of the fact that Tyson has provided such important employment to many individuals in our community."
It's anticipated that 100 additional meals will be served daily to feed senior citizens, low income adults, and other households who lack the financial resources to purchase healthy, nutritious food.
"We're honored to stand up with our friends at SACA to help make additional meals available to those in need," said Leonard Payne, Tyson Foods' New Holland Further Processing plant manager. "It's also our hope that this event raises awareness about hunger that exists in this community and so many others like it across the nation."
SACA's mission is to foster the cultural, social, economic well-being of the Latinos residing in the City and County of Lancaster. Since 1973, the organization has been regarded as a leader in providing solutions to problems facing Latino residents. Major accomplishments of SACA include the development of five major human service facilities, La Academia Charter School., a full array of mental and substance abuse programs, an HIV/AIDS clinic, a senior center, a hot meal program, a bilingual public radio station, and a community access TV channel.
Tyson Foods has two plants and approximately 900 employees in the New Holland area.
About Tyson Foods
Tyson Foods, Inc. (NYSE: TSN), with headquarters in Springdale, Arkansas, is one of the world's largest producers of chicken, beef, pork and prepared foods that include leading brands such as Tyson®, Jimmy Dean®, Hillshire Farm®, Sara Lee® frozen bakery, Ball Park®, Wright®, Aidells® and State Fair®. The company was founded in 1935 by John W. Tyson, whose family has continued to lead the business with his son, Don Tyson, guiding the company for many years and grandson, John H. Tyson, serving as the current chairman of the board of directors. Tyson Foods provides a wide variety of protein-based and prepared foods products and is the recognized market leader in the retail and foodservice markets it serves, supplying customers throughout the United States and approximately 130 countries. It has approximately 124,000 Team Members employed at more than 400 facilities and offices in the United States and around the world. Through its Core Values, Code of Conduct and Team Member Bill of Rights, Tyson Foods strives to operate with integrity and trust and is committed to creating value for its shareholders, customers and Team Members. The company also strives to be faith-friendly, provide a safe work environment and serve as stewards of the animals, land and environment entrusted to it.
###
Contact Krista Cupp at 479-290-5195