Headline
Tyson Donates Truckload of Chicken as Part of The Millennial Train Project
New Orleans, LA (May 27, 2015) – Second Harvest Food Bank is excited to receive the truckload of chicken generously donation by Tyson Foods, Inc. In a special event held at the New Orleans Mission today, Tyson Foods and volunteers from The Millennial Train Project announced that they have selected The New Orleans Mission and Second Harvest Food Bank to receive the donation of nearly 40,000 pounds of chicken.
One in six households in Louisiana are at risk of hunger and the state ranks number two in the nation for food hardship. Second Harvest Food Bank partner agency, the New Orleans Mission is fighting hunger among our homeless population every day. The Mission will receive a donation of nearly 2,000 pounds of chicken to use in their soup kitchen.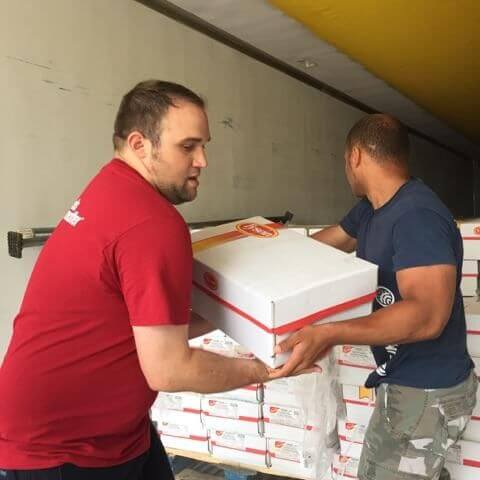 "This donation arrived at the perfect time," said Natalie Jayroe, President and CEO of Second Harvest Food Bank. "This week children across South Louisiana are getting out of school for the summer and we will soon start receiving calls from families who need assistance during the summer as they now have to make their grocery budget stretch even further. The donation from Tyson will provide families with the nutritious protein the children need to properly feed their bodies."
Since 2000, Tyson Foods has donated nearly more than 98 million pounds of protein, a most needed item at food banks across the country. "We hope that this donation will not only meet the immediate need, but also raise awareness about the seriousness of hunger in our communities," said Tyson Foods' Chef Matt Boring C.E.C. "I hope that everyone who has been a part of this event will take what they've learned about hunger to their own communities and get involved."
While in New Orleans the volunteers from The Millennial Train Project will tour the New Orleans Mission to learn more about hunger in New Orleans and lend a hand to unload the donation from the truck. The group is traveling on a ten day trip from Los Angeles to Washington, D.C.
Second Harvest Food Bank distributes 22.5 million meals to 474 partners and programs across 23 South Louisiana parishes. The Food Bank's benefits helpline also works to connect clients to programs and services such as SNAP and other federal programs they may qualify for.
Visit www.tysonhungerrelief.com to learn more about what Tyson Foods is doing to help fight hunger. To learn more about the mission of Second Harvest Food Bank or to schedule a volunteer shift, please call 504-734-1322 or visit www.no-hunger.org.
Tyson Foods: 
Tyson Foods, Inc. (NYSE: TSN), with headquarters in Springdale, Arkansas, is one of the world's largest producers of chicken, beef, pork and prepared foods that include leading brands such as Tyson®, Jimmy Dean®, Hillshire Farm®, Sara Lee®, Ball Park®, Wright®, Aidells® and State Fair®. The company was founded in 1935 by John W. Tyson, whose family has continued to lead the business with his son, Don Tyson, guiding the company for many years and grandson, John H. Tyson, serving as the current chairman of the board of directors. Tyson Foods provides a wide variety of protein-based and prepared foods products and is the recognized market leader in the retail and foodservice markets it serves, supplying customers throughout the United States and approximately 130 countries. It has approximately 124,000 Team Members employed at more than 400 facilities and offices in the United States and around the world. Through its Core Values, Code of Conduct and Team Member Bill of Rights, Tyson Foods strives to operate with integrity and trust and is committed to creating value for its shareholders, customers and Team Members. The company also strives to be faith-friendly, provide a safe work environment and serve as stewards of the animals, land and environment entrusted to it.
Millennial Trains Project:
The Millennial Trains Project (MTP) is a 501(c)3 non-profit organization that leads crowd-funded transcontinental train journeys for diverse groups of young innovators to explore America's new frontiers. Our journeys provide opportunities for personal development and shared discovery through on-train seminars led by distinguished mentors, workshops with local leaders, and participant-led projects in MTP communities. Our mission is to enable participants and virtual audiences to identify, evaluate, and explore emerging opportunities and challenges in communities where our trains stop while advancing a project that benefits, serves, and inspires others. 
About Second Harvest Food Bank:
Second Harvest Food Bank is leading the fight against hunger and building food security in South Louisiana by providing food access, advocacy, education and disaster response. Second Harvest provides food to 474 partners and programs across 23 parishes, from the Mississippi border to the Texas state line. Together, we make up the largest charitable anti-hunger network in the state. With our community's help, we can make food security a reality for every household in South Louisiana.
Second Harvest Food Bank is an affiliated ministry of the Roman Catholic Archdiocese of New Orleans, a member of Feeding America, and a United Way Partner Agency. To join us in the fight to end hunger, please visit www.no-hunger.org. Follow us on Twitter at www.Twitter.com/2ndHarvestGNOA; fan us on Facebook at www.Facebook.com/2ndHarvestGNOA or Instagram at @2ndHarvestGNOA.
USDA:
Second Harvest Food Bank distributes commodities to eligible, needy families under the Food Bank Program in 23 south Louisiana parishes. Commodities will be given on a first come, first serve basis as a part of the normal food package provided by the site. Commodities can only be given to registered applicants. For a complete listing of member agency locations visit, no-hunger.org/Programs/MemberAgencies.
###