Headline
Second Harvest Food Bank Receives Donation of Truckload of Chicken from Tyson Foods and Champions for Kids
WINSTON-SALEM, N.C.—February 10, 2015 – Champions for Kids and Tyson Foods, Inc. donated a truckload of chicken today to the Second Harvest Food Bank of Northwest North Carolina. The food bank provides food assistance to 300,000 in the region; nearly one-third of those are children. The donation is one of two donation events in fulfillment of the second annual "Be a Hunger Hero" campaign.
"We are deeply grateful to Champions for Kids and Tyson Foods for their ongoing commitment to raise awareness of the very significant problem of hunger, and especially childhood hunger." said Clyde Fitzgerald, executive director for Second Harvest Food Bank of Northwest NC.  "In the 18 counties served by our food bank, one in six residents turns to our partner network for help to put food on their tables, and more than one in four children are food insecure. The engaging 'Be a Hunger Hero' campaign invited families to be super heroes for our neighbors in need. It was a tremendous success and we, along with the entire Feeding America network of food banks, give thanks for the resulting much-needed donations of protein-rich products. "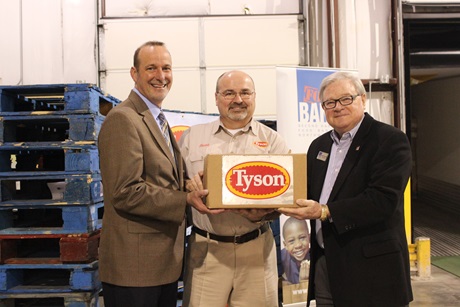 (L to R) Jim Evans, Chief Development Officer, Champions for Kids; Brent West, Tyson Foods, Wilkesboro Plant HR Manager; Clyde Fitzgerald, Executive Director, Second Harvest Food Bank of Northwest NC.
Meat and poultry are nutrient dense foods and, according to health experts, can be especially helpful to people who need more protein including children and seniors. According to food banks nationwide, meat is the most requested and least available food item.
"Champions for Kids is proud to partner with Tyson Foods in a shared effort to help meet the needs of children and families across America," said Adelaide Schaeffer, President and CEO of Champions for Kids. "When you give time or resources to your local food bank, you not only help families in your community—you can also amplify your impact by teaching your children the importance of giving to others in need and fostering a lifelong habit of generosity."
Tyson Foods has been an active participant in the fight against hunger for a decade, donating nearly 100 million pounds of protein, or the equivalent of 300 million meals.  The company partners with Share Our Strength, Lift Up America, Feeding America, and the League of United Latin American Citizens to raise awareness and help feed the hungry across the nation. The company's current "KNOW Hunger" campaign is focused on helping more people understand and join the effort to eliminate hunger in America.
About Tyson Foods 
Tyson Foods, Inc. (NYSE: TSN), with headquarters in Springdale, Arkansas, is one of the world's largest producers of chicken, beef, pork and prepared foods that include leading brands such as Tyson®, Jimmy Dean®, Hillshire Farm®, Sara Lee® frozen bakery, Ball Park®, Wright®, Aidells® and State Fair®. The company was founded in 1935 by John W. Tyson, whose family has continued to lead the business with his son, Don Tyson, guiding the company for many years and grandson, John H. Tyson, serving as the current chairman of the board of directors. Tyson Foods provides a wide variety of protein-based and prepared foods products and is the recognized market leader in the retail and foodservice markets it serves, supplying customers throughout the United States and approximately 130 countries. It has approximately 124,000 Team Members employed at more than 400 facilities and offices in the United States and around the world. Through its Core Values, Code of Conduct and Team Member Bill of Rights, Tyson Foods strives to operate with integrity and trust and is committed to creating value for its shareholders, customers and Team Members. The company also strives to be faith-friendly, provide a safe work environment and serve as stewards of the animals, land and environment entrusted to it.
About Champions for Kids
Champions for Kids makes it simple to give kids in your community the resources they need to thrive. Since 2004, Champions for Kids has served more than 5.4 million children across all 50 states through in-store donation campaigns, service projects and community events. For more information, please visit www.championsforkids.org.