Headline
Tyson Foods Gives $1 Million To Downtown Springdale Alliance
Springdale, Ark. – January 23, 2015 – Donnie Smith, president and CEO of Tyson Foods, Inc. (NYSE: TSN), today presented a check for $1 million on behalf of the company to the Downtown Springdale Alliance, the nonprofit group working to revitalize the city's original center of commerce. The money will support the organization's effort to develop infrastructure and green space.
"My grandfather started Tyson Foods 80 years ago on Emma Avenue," said John Tyson, chairman of the company. "We're proud of our heritage here. We look forward to the regeneration of downtown Springdale, and the positive impact it will have on this great city's economy and its future."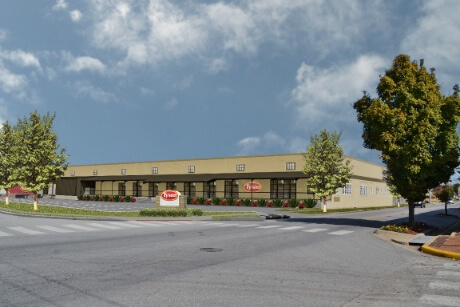 Rendering of the building at 516 E. Emma. Ave.
In addition to the $1 million gift, the company revealed plans for a building it owns at 516 E. Emma Ave. Constructed in the 1930s as a terminal for Jones Truck Lines, the building was once home to the Springdale Morning News and most recently was an Orscheln Farm & Home store. Tyson Foods acquired the building in June 2014 and renovations will begin soon. The project is scheduled for completion in late summer 2015 and about 25 people will work at the location.
In honor of its heritage, the 28,000 square-foot building will be named the Tyson Foods JTL Building. It will become the new home to Tyson Foods' northwest Arkansas Employment Center and its Company Store, which are both currently located in Lowell and the company's records management group. The Employment Center is a central location where the company takes applications and conducts orientation for hourly team members who work in one of its northwest Arkansas locations. The Company Store is a wholesale outlet where employees can purchase Tyson Foods products and a limited selection of staple grocery items.
"For 80 years we've lived and worked in Springdale. For 80 years, we've done business here, shopped here, and raised our children here. We're rooted in Springdale," Smith said. "But Springdale is not just our past. Springdale is our future. We've grown from a small operation to a global one and we've chosen to do that here."
Tyson Foods owns additional properties in downtown Springdale, notably its first headquarters at 319 E. Emma Ave. While the company has not yet determined what it will do with the properties, an internal group is reviewing potential uses.
Tyson Foods employs nearly 23,000 people in Arkansas and depends on more than 1,700 family farmers in the state to grow chickens for its operations. The company also purchases cattle, pigs, grain, diesel and other utilities in Arkansas, and estimates its annual statewide economic impact as more than $1.6 billion.
The video shown at the Springdale Chamber Luncheon is available to download for b-roll here: bit.ly/1JeHLwq
About Tyson Foods
Tyson Foods, Inc. (NYSE: TSN), with headquarters in Springdale, Arkansas, is one of the world's largest producers of chicken, beef, pork and prepared foods that include leading brands such as Tyson®, Jimmy Dean®, Hillshire Farm®, Sara Lee® frozen bakery, Ball Park®, Wright®,Aidells® and State Fair®. The company was founded in 1935 by John W. Tyson, whose family has continued to lead the business with his son, Don Tyson, guiding the company for many years and grandson, John H. Tyson, serving as the current chairman of the board of directors. Tyson Foods provides a wide variety of protein-based and prepared foods products and is the recognized market leader in the retail and foodservice markets it serves, supplying customers throughout the United States and approximately 130 countries. It has approximately 124,000 Team Members employed at more than 400 facilities and offices in the United States and around the world. Through its Core Values, Code of Conduct and Team Member Bill of Rights, Tyson Foods strives to operate with integrity and trust and is committed to creating value for its shareholders, customers and Team Members. The company also strives to be faith-friendly, provide a safe work environment and serve as stewards of the animals, land and environment entrusted to it.
###
Media Contact: Worth Sparkman, worth.sparkman@tyson.com or 479-290-6358