Headline
Technology Executive from Alphabets X Joins Tyson Foods Board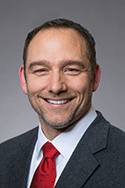 Springdale, Ark. – Nov. 16, 2017 – An executive at X, an Alphabet Inc. company that invents and launches "moonshot technologies," has been named to the board of directors of Tyson Foods, Inc. (NYSE: TSN).
Company officials announced today that Dean Banks joined the Tyson Foods board effective November 15. He becomes one of nine independent directors on what is now an eleven-member board and will serve on its Governance and Nominating Committee and Strategy and Acquisitions Committee.
"Our board's nominating committee recommended Dean because of his unique background in innovation and technology, as well as his experience in developing and investing in start-up companies," said Chairman of the Board of Directors for Tyson Foods, John Tyson. "We believe his experience will support our efforts to better understand and capitalize on the role of technology in the improvement and growth of our company."
Banks has experience as an entrepreneur, investor and leader in a variety of technology-related businesses. Since 2016, he has been a project lead and a leadership team member for X (formerly known as Google [x]). Aside from his responsibilities at X, Dean serves on the board of Vergent Bioscience, which develops molecular imaging probes for life science research and development.
Banks was previously managing partner of SEED Ventures, a group investing in and developing early stage healthcare technologies. He also has served as a consultant to Cleveland Clinic Innovations, CEO of Occelerator, SVP of Business Development and Strategic Marketing at OrthoHelix (acquired by Tornier, Inc.), was co-founder and CEO of Connective Orthopaedics, and was a Vice President at Highland Capital Partners.
A former platoon sergeant and squad leader in the U.S. Marine Corps, Banks has a Bachelor of Arts in Marketing and Public Relations from Miami University and a Master of Business Administration from the Harvard Business School.
In addition to Banks and Chairman John Tyson, the other members of the Tyson Foods board of directors are Gaurdie E. Banister Jr.; Mike Beebe; Mikel A. Durham; Tyson Foods president and CEO Tom Hayes; Kevin M. McNamara; Cheryl S. Miller; Jeffrey K. Schomburger; Robert Thurber and Barbara A. Tyson.
About Tyson Foods
Tyson Foods Inc. (NYSE: TSN) is one of the world's largest food companies and a recognized leader in protein. Founded in 1935 by John W. Tyson and grown under three generations of family leadership, the company has a broad portfolio of products and brands like Tyson®, Jimmy Dean®, Hillshire Farm®, Ball Park®, Wright®, Aidells®, ibp® and State Fair®. Tyson Foods innovates continually to make protein more sustainable, tailor food for everywhere it's available and raise the world's expectations for how much good food can do. Headquartered in Springdale, Arkansas, the company had 122,000 team members at September 30, 2017. Through its Core Values, Tyson Foods strives to operate with integrity, create value for its shareholders, customers, communities and team members and serve as a steward of the animals, land and environment entrusted to it. Visit www.tysonfoods.com.
###
Media Contact:
Gary Mickelson, 479-290-6111, gary.mickelson@tyson.com