Headline
Tyson Foods Donates Truckload of Chicken to Food Bank
ATHENS, Ga. – March 2, 2015 – Today, Tyson Foods, Inc., in conjunction with the Animal Agriculture Alliance's College Aggies Online scholarship competition (CAO) and the University of Georgia Dairy Science Club, donated a load of protein to the Food Bank of Northeast Georgia, located in Athens, Georgia.
The 30,400 pound load of chicken, which will provide more than 120,000 servings of protein, arrived at the food bank today at approximately 9:30 a.m. Representatives from Tyson Foods, the Alliance and the University of Georgia Dairy Club were present to help deliver the chicken.
The donation was the result of a challenge posed to this fall's participants in the Alliance's CAO program.
"We're always looking for ways to raise awareness about the seriousness of hunger across the country," said Tyson Foods' director of social media Jack Pate. "And this is one of those events that does that, while meeting the immediate need of hunger that so many face."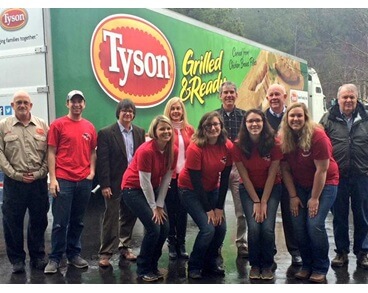 Tyson Foods donates 30,400 pounds of chicken to the Food Bank of Northeast Georgia.
CAO, an online competition open to all college students interested in agriculture, helps college students utilize social media and engagement activities to share the story of American agriculture. Since its inception in 2009, more than 2500 college students from more than 160 different universities and colleges have registered to participate in the program.
This past fall, participating student organizations were assigned a variety of challenges, including hosting a food drive on their college campuses. The University of Georgia's Dairy Science Club collected over 250 pounds of food to win this year's food drive challenge, earning a donation in their honor from CAO program sponsor Tyson Foods.
"Tyson Foods has a rich history of supporting hunger relief efforts nationwide," said Kay Johnson Smith, Alliance president and CEO. "We are so proud that we were able to inspire this year's CAO participants to give back to their local communities through Tyson's sponsorship and involvement in the program."
As nutrient-dense foods according to health experts, meat and poultry can be especially important to individuals needing more protein, including children, pregnant women, the elderly, and anyone undergoing severe stress, disease or disability. According to food banks nationwide, meat and poultry are the most requested and least available foods.
"We were grateful for the food that University of Georgia's Dairy Science Club collected through their food drive, and are even more excited to receive this truckload of chicken from Tyson," said John Becker, president and CPO of the Food Bank of Northeast Georgia. "We appreciate the club's dedication to fighting hunger in our community and are very thankful to Tyson for their significant contribution."
In addition to the protein donation, Tyson Foods also hosted the top-ranking clubs and individuals from the competition during a visit in late February. The winning CAO students and club representatives will also be recognized during the Alliance's annual Stakeholders Summit, set for May 6-7, 2015 in Kansas City, Mo.
For more information about Tyson Foods' donation or the CAO program, please contact Hannah Thompson at (703) 562-5160.
About the Alliance:
The Animal Agriculture Alliance is an industry-united, nonprofit organization that helps bridge the communication gap between farm and fork. We connect key food industry stakeholders to arm them with responses to emerging issues. We engage food chain influencers and promote consumer choice by helping them better understand modern animal agriculture. We protect by exposing those who threaten our nation's food security with damaging misinformation.
Find the Alliance on Facebook, Twitter, and YouTube.
About Tyson Foods:
Tyson Foods, Inc. (NYSE: TSN), with headquarters in Springdale, Arkansas, is one of the world's largest producers of chicken, beef, pork and prepared foods that include leading brands such as Tyson®, Jimmy Dean®, Hillshire Farm®, Sara Lee® frozen bakery, Ball Park®, Wright®, Aidells® and State Fair®. The company was founded in 1935 by John W. Tyson, whose family has continued to lead the business with his son, Don Tyson, guiding the company for many years and grandson, John H. Tyson, serving as the current chairman of the board of directors. Tyson Foods provides a wide variety of protein-based and prepared foods products and is the recognized market leader in the retail and foodservice markets it serves, supplying customers throughout the United States and approximately 130 countries. It has approximately 124,000 Team Members employed at more than 400 facilities and offices in the United States and around the world. Through its .Core Values, Code of Conduct and Team Member Bill of Rights, Tyson Foods strives to operate with integrity and trust and is committed to creating value for its shareholders, customers and Team Members. The company also strives to be faith-friendly, provide a safe work environment and serve as stewards of the animals, land and environment entrusted to it.